Venezuelan President Hugo Chavez has condemned NATO's bombings in Libya, saying their aim is to seize control of the country's oil wealth.
Chavez has been a staunch defender of Gaddafi throughout the Libyan conflict. He did not refer directly to the rebels who entered the capital of Tripoli on Sunday, but condemned the role of the United States and their European allies.
Chavez said, "The democratic governments of Europe, well not all of them, but we know who they are, are demolishing Tripoli with their bombs. The allegedly democratic and Democrat government of the US is involved too. Just because they want to, only because they feel like it. Today, they dropped, I don't know how many bombs and they are falling in a shameless and open way"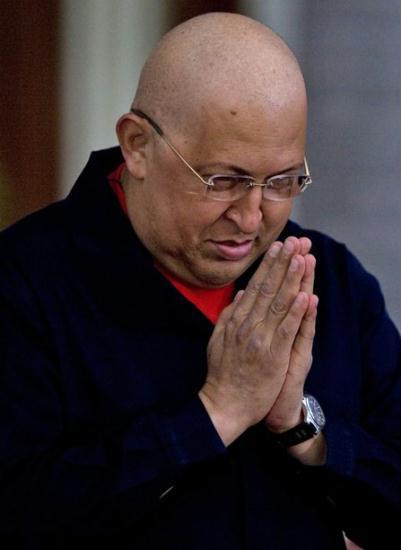 Venezuela's President Hugo Chavez gestures during a religious
event in solidarity with his struggle against cancer at Miraflores
presidential palace in Caracas, Venezuela, Sunday, Aug. 21, 2011.
(AP Photo/Ariana Cubillos)
Editor:Li Wanran |Source: CNTV.CN