Watch Video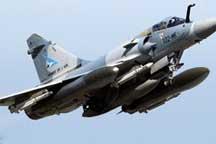 Play Video
France will continue military operations in Libya under a United Nations mandate for as long as needed. French President, Nicolas Sarkozy, made the remarks after meeting with the head of the Libyan National Transitional Council, Mahmoud Jibril.
Sarkozy said, "Military operations will cease when there is no longer any need for them. There will be no need for them when Gaddafi and his aides are no longer a threat to the Libyan people. We will continue military operations under the UN resolution, which is to protect the civilian population against the forces of Gaddafi."
Jibril said he had no information on Gaddafi's whereabouts. He also warned that pockets of loyalist fighters still remained in Tripoli and in the south of the country.
The two leaders also decided that the contact group over Libya would meet in Paris on September 1st. Jibril hailed the upcoming meeting as important, stressing that the transitional authority needs more aid.
Next Thursday's meeting could bring together as many as 30 world leaders, including UN chief Ban Ki-moon.
Editor:Liu Fang |Source: CNTV.CN