Watch Video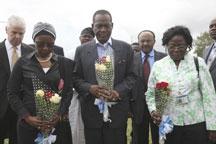 Play Video
United Nations Deputy Secretary-General, Asha-Rose Migiro, and Nigerian local authorities have visited the UN's Nigeria headquarters where 23 people were killed, and another 81 were wounded in a suicide bombing on Friday.
Migiro also visited Abuja's National Hospital, where many of the wounded were treated after the blast. The UN's head of security Gregory Starr also visited the blast site. He said the world body had no prior warnings nor intelligence about the attack, and the UN knew of no specific threat against them in Africa's most populous nation. Starr said it was difficult for the UN to justify spending more money on security if that meant taking money away from development or humanitarian projects.
He said, "The problem is essentially that yes, we need to spend more money on security, but every dollar that we spend on security is a dollar that we are not spending on medical care, or development or humanitarian affairs. So there is a very fine line that we've got to hit here. I mean, to take the money that we're given by member states and to spend it on us, on security, rather than things that we need to spend it on, that's the line that we've got to hit."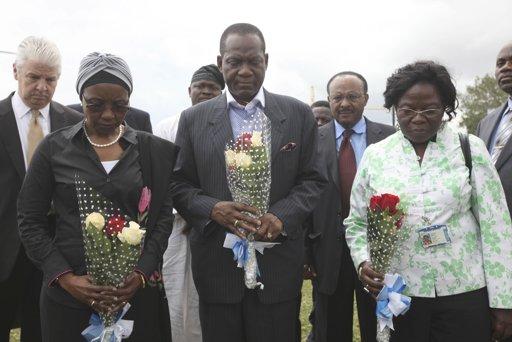 United Nations Deputy Secretary-General Dr. Asha-Rose Migiro , left, and other UN
officials pray while holding flowers Sunday, Aug. 28, 2011 after they arrived to
inspect the damage of the bombed United Nation's office after a car bombing on
Friday in Abuja, Nigeria which killed at least 19 people. Nigeria's president says
his government will bring terrorism "under control". (AP Photo/Sunday Alamba)
Editor:Zhang Jingya |Source: CNTV.CN