Watch Video
Play Video
A close race was emerging on Sunday in the contest to replace Prime Minister Naoto Kan as the leader of Japan's DPJ ruling party. Whoever wins the most votes on Monday is almost certain to become the new Prime Minister as the DPJ controls the lower house of the parliament, which chooses Japan's chief.
Five candidates all promised the same thing on Sunday---resolving the nuclear crisis and reviving the country's battered economy.
But Japanese people don't seem at all encouraged by these remarks.
Company employee Makoto Suzuki said, "To be honest, I don't expect anything from the candidates. It would be extremely difficult that any candidate could show leadership in the current situation under the "twisted parliament".
But the people's opinions are not at the center of race this time.
Former Foreign Minister Seiji Maehara is leading in public opinion polls but this can't guarantee his victory, for the vote is conducted among the ruling DPJ's lawmakers. Instead it's Trade Minister Banri Kaieda who is forecast to be the likely winner. That's because he's gained support from DPJ power broker Ichiro Ozawa, and former Prime Minister Yukio Hatoyama.
The extremely short campaign process--just the weekend before Monday's vote--was not even carried live on any of the major TV networks.
Prof. Koichi Nakano of Political Science in Sophia Univ. "In some way, I think the political bickering is a cover for a lack of serious policy differences-which is even more pathetic I think."
The winner needs to win a majority of 200 votes, which is not likely to happen. And a run-off between the top two is highly expected.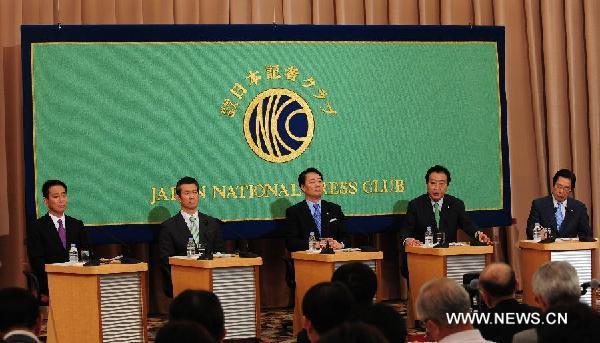 Japan's former foreign minister Seiji Maehara, former transport minister Sumio Mabuchi, Minister of Economy, Trade and Industry Banri Kaieda, Finance Minister Yoshihiko Noda and Minister of Agriculture, Forestry and Fisheries Michihiko Kano (L-R), candidates for the ruling Democratic Party of Japan presidential election, attend a press conference at the National Press Club in Tokyo, Japan, on Aug. 27, 2011. Five Democratic Party of Japan (DPJ) lawmakers filed their candidacy papers for the ruling party's presidential election on Saturday, just one day after Prime Minister Naoto Kan officially announced he will step down as the ruling party's leader. (Xinhua/Ji Chunpeng)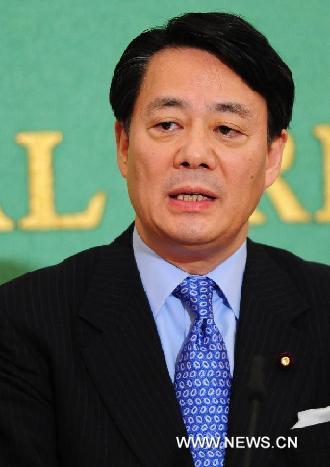 Japan's Minister of Economy, Trade and Industry Banri
Kaieda attends a press conference at the National Press
Club in Tokyo, Japan, Aug. 27, 2011. Former Foreign
Minister Seiji Maehara, Former Land, Infrastructure and
Transport Minister Sumio Mabuchi, Economy Minister Banri
Kaieda, Finance Minister Yoshihiko Noda and Agriculture
Minister Michihiko Kano, candidates for the ruling
Democratic Party of Japan presidential election, attend
a press conference at the National Press Club in Tokyo
on August 27, 2011. Five Democratic Party of Japan (DPJ)
lawmakers filed their candidacy papers for the ruling
party's presidential election on Saturday, just one day
after Prime Minister Naoto Kan officially announced he
will step down as the ruling party's leader.
(Xinhua/Ji Chunpeng)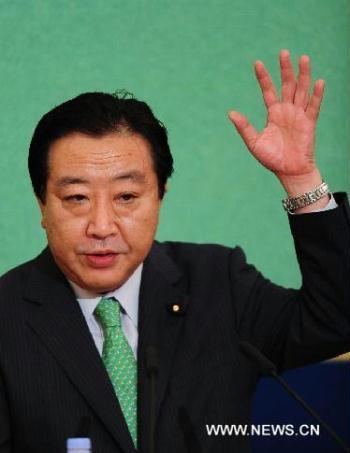 Japan's Finance Minister Yoshihiko Noda attends a press
conference at the National Press Club in Tokyo, Japan,
Aug. 27, 2011. Former Foreign Minister Seiji Maehara,
Former Land, Infrastructure and Transport Minister Sumio
Mabuchi, Economy Minister Banri Kaieda, Finance Minister
Yoshihiko Noda and Agriculture Minister Michihiko Kano,
candidates for the ruling Democratic Party of Japan
presidential election, attend a press conference at
the National Press Club in Tokyo on August 27, 2011.
Five Democratic Party of Japan (DPJ) lawmakers filed
their candidacy papers for the ruling party's
presidential election on Saturday, just one day after
Prime Minister Naoto Kan officially announced he will
step down as the ruling party's leader. (Xinhua/Ji
Chunpeng)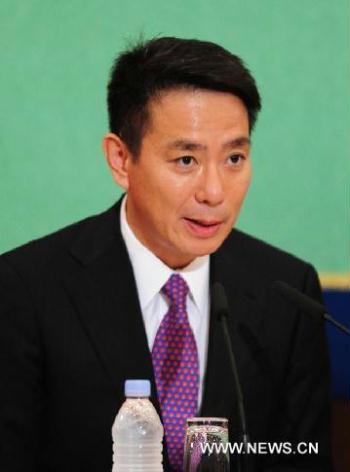 Japan's former foreign minister Seiji Maehara attends a
press conference at the National Press Club in Tokyo,
Japan, Aug. 27, 2011. Former Foreign Minister Seiji
Maehara, Former Land, Infrastructure and Transport
Minister Sumio Mabuchi, Economy Minister Banri Kaieda,
Finance Minister Yoshihiko Noda and Agriculture Minister
Michihiko Kano, candidates for the ruling Democratic
Party of Japan presidential election, attend a press
conference at the National Press Club in Tokyo on August
27, 2011. Five Democratic Party of Japan (DPJ) lawmakers
filed their candidacy papers for the ruling party's
presidential election on Saturday, just one day after
Prime Minister Naoto Kan officially announced he will
step down as the ruling party's leader. (Xinhua/Ji
Chunpeng)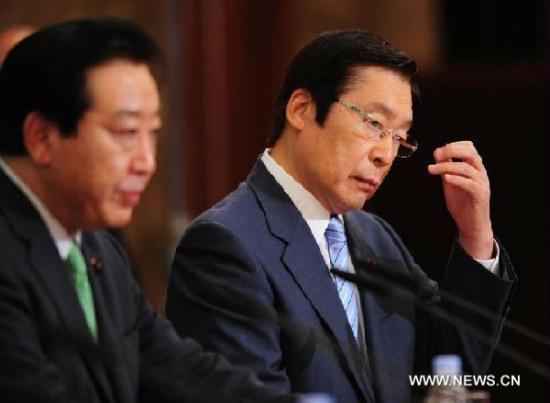 Japan's Minister of Agriculture, Forestry and Fisheries Michihiko Kano (R) attends a press conference at the National Press Club in Tokyo, Japan, Aug. 27, 2011. Former Foreign Minister Seiji Maehara, Former Land, Infrastructure and Transport Minister Sumio Mabuchi, Economy Minister Banri Kaieda, Finance Minister Yoshihiko Noda and Agriculture Minister Michihiko Kano, candidates for the ruling Democratic Party of Japan presidential election, attend a press conference at the National Press Club in Tokyo on August 27, 2011. Five Democratic Party of Japan (DPJ) lawmakers filed their candidacy papers for the ruling party's presidential election on Saturday, just one day after Prime Minister Naoto Kan officially announced he will step down as the ruling party's leader. (Xinhua/Ji Chunpeng)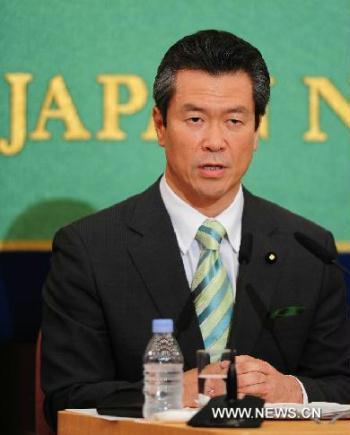 Japan's former transport minister Sumio Mabuchi attends a
press conference at the National Press Club in Tokyo,
Japan, Aug. 27, 2011. Former Foreign Minister Seiji Maehara,
Former Land, Infrastructure and Transport Minister Sumio
Mabuchi, Economy Minister Banri Kaieda, Finance Minister
Yoshihiko Noda and Agriculture Minister Michihiko Kano,
candidates for the ruling Democratic Party of Japan
presidential election, attend a press conference at the
National Press Club in Tokyo on August 27, 2011. Five
Democratic Party of Japan (DPJ) lawmakers filed their
candidacy papers for the ruling party's presidential
election on Saturday, just one day after Prime Minister
Naoto Kan officially announced he will step down as the
ruling party's leader. (Xinhua/Ji Chunpeng)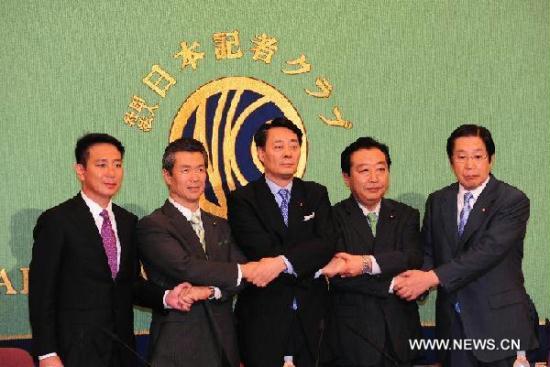 Japan's former foreign minister Seiji Maehara, former transport minister Sumio Mabuchi, Minister of Economy, Trade and Industry Banri Kaieda, Finance Minister Yoshihiko Noda and Minister of Agriculture, Forestry and Fisheries Michihiko Kano (L-R), candidates for the ruling Democratic Party of Japan presidential election, attend a press conference at the National Press Club in Tokyo, Japan, on Aug. 27, 2011. Five Democratic Party of Japan (DPJ) lawmakers filed their candidacy papers for the ruling party's presidential election on Saturday, just one day after Prime Minister Naoto Kan officially announced he will step down as the ruling party's leader. (Xinhua/Ji Chunpeng)
Editor:Zhang Jingya |Source: CNTV.CN