Watch Video
Play Video
Japan's ruling party has begun the process of picking of a new leader. The winner will succeed Naoto Kan as the country's 6th Prime Minister in 5 years.
Some say it's unlikely any of the five contenders will win an outright majority in the first round. Whoever does win will have to cope with a resurgent Yen that is threatening to hurt exports. They'll also need to forge a new energy policy, in the wake of the Fukushima crisis, and continue to fund the tsunami cleanup.
Japan's public debt has ballooned in recent months, triggering a credit rating downgrade last week. Voting will begin following the candidates' final speeches, which we're hoping to bring you in our next program.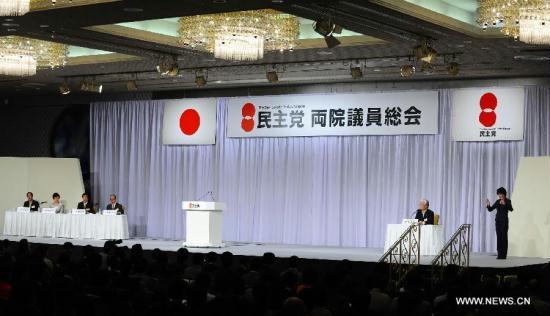 Japan's ruling Democratic Party holds an election in Tokyo, Japan, Aug. 29, 2011. The Democratic Party started Monday an election of the party's president, who is expected to become the country's third prime minister in two years. Five candidates, namely Economy, Trade and Industry Minister Banri Kaieda, Former Foreign Minister Seiji Maehara, Finance Minister Yoshihiko Noda, Agriculture, Forestry and Fisheries Minister Michihiko Kano, and Former Transport Minister Sumio Mabuchi, vied for the top post to succeed outgoing Prime Minister Naoto Kan. (Xinhua/Kenichiro Seki)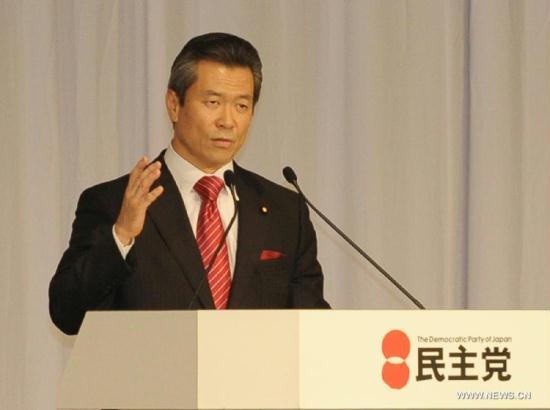 Former Japanese Transport Minister Sumio Mabuchi gives a speech during the election for a new president of the Democratic Party in Tokyo, Japan, Aug. 29, 2011. Japan's ruling Democratic Party started Monday an election of the party's president, who is expected to become the country's third prime minister in two years. Five candidates, namely Economy, Trade and Industry Minister Banri Kaieda, Former Foreign Minister Seiji Maehara, Finance Minister Yoshihiko Noda, Agriculture, Forestry and Fisheries Minister Michihiko Kano, and Former Transport Minister Sumio Mabuchi, vied for the top post to succeed outgoing Prime Minister Naoto Kan. (Xinhua/Kenichiro Seki)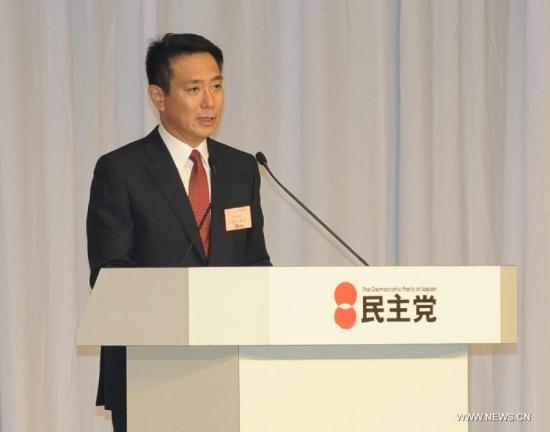 Japan's Former Foreign Minister Seiji Maehara gives a speech during the election for a new president of the Democratic Party in Tokyo, Japan, Aug. 29, 2011. Japan's ruling Democratic Party started Monday an election of the party's president, who is expected to become the country's third prime minister in two years. Five candidates, namely Economy, Trade and Industry Minister Banri Kaieda, Former Foreign Minister Seiji Maehara, Finance Minister Yoshihiko Noda, Agriculture, Forestry and Fisheries Minister Michihiko Kano, and Former Transport Minister Sumio Mabuchi, vied for the top post to succeed outgoing Prime Minister Naoto Kan. (Xinhua/Kenichiro Seki)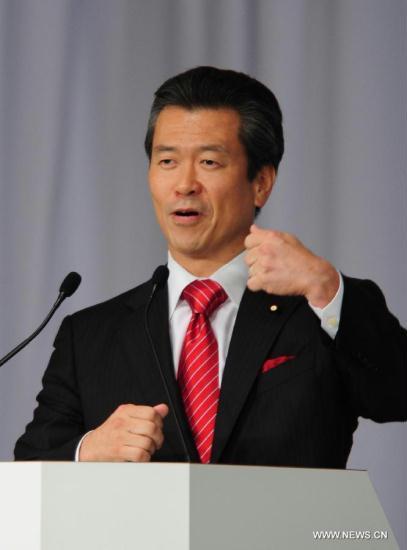 Former Japanese Transport Minister Sumio Mabuchi gives a speech
during the election for a new president of the Democratic Party in
Tokyo, Japan, Aug. 29, 2011. Japan's ruling Democratic Party started
Monday an election of the party's president, who is expected to
become the country's third prime minister in two years. Five
candidates, namely Economy, Trade and Industry Minister Banri Kaieda,
Former Foreign Minister Seiji Maehara, Finance Minister Yoshihiko
Noda, Agriculture, Forestry and Fisheries Minister Michihiko Kano,
and Former Transport Minister Sumio Mabuchi, vied for the top post
to succeed outgoing Prime Minister Naoto Kan. (Xinhua/Kenichiro Seki)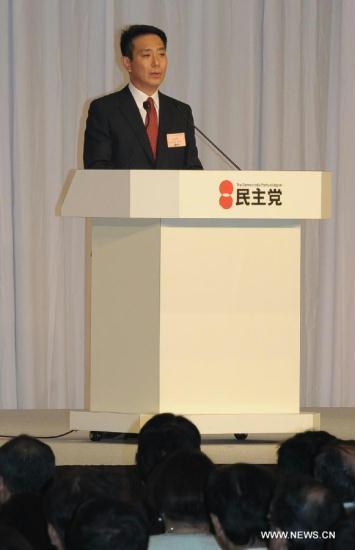 Japan's Former Foreign Minister Seiji Maehara gives a speech
during the election for a new president of the Democratic
Party in Tokyo, Japan, Aug. 29, 2011. Japan's ruling Democratic
Party started Monday an election of the party's president,
who is expected to become the country's third prime minister
in two years. Five candidates, namely Economy, Trade and
Industry Minister Banri Kaieda, Former Foreign Minister Seiji
Maehara, Finance Minister Yoshihiko Noda, Agriculture,
Forestry and Fisheries Minister Michihiko Kano, and Former
Transport Minister Sumio Mabuchi, vied for the top post to
succeed outgoing Prime Minister Naoto Kan. (Xinhua/Kenichiro Seki)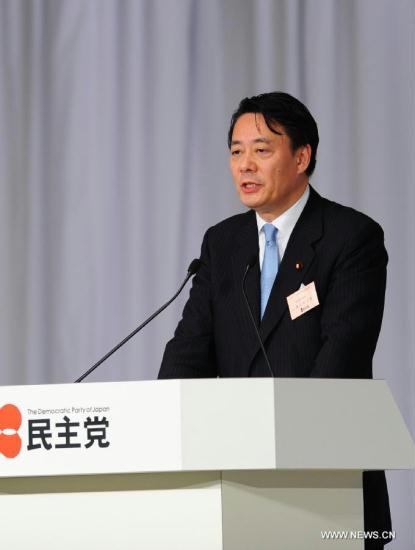 Japan's Economy, Trade and Industry Minister Banri Kaieda delivers a
speech during the election for a new president of the Democratic Party
in Tokyo, Japan, Aug. 29, 2011. Japan's ruling Democratic Party started
Monday an election of the party's president, who is expected to become
the country's third prime minister in two years. Five candidates,
namely Economy, Trade and Industry Minister Banri Kaieda, Former Foreign
Minister Seiji Maehara, Finance Minister Yoshihiko Noda, Agriculture,
Forestry and Fisheries Minister Michihiko Kano, and Former Transport
Minister Sumio Mabuchi, vied for the top post to succeed outgoing Prime
Minister Naoto Kan. (Xinhua/Kenichiro Seki)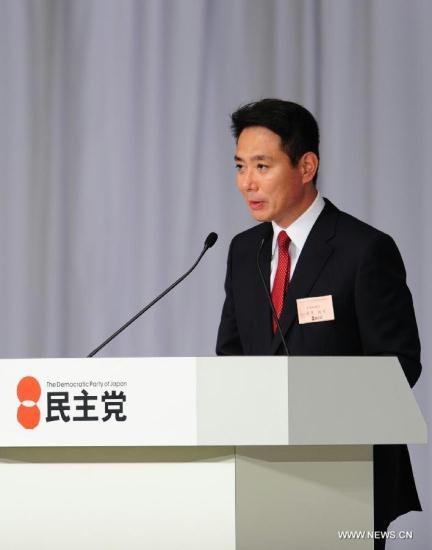 Japan's Former Foreign Minister Seiji Maehara gives a speech during the
election for a new president of the Democratic Party in Tokyo, Japan,
Aug. 29, 2011. Japan's ruling Democratic Party started Monday an election
of the party's president, who is expected to become the country's third
prime minister in two years. Five candidates, namely Economy, Trade and
Industry Minister Banri Kaieda, Former Foreign Minister Seiji Maehara,
Finance Minister Yoshihiko Noda, Agriculture, Forestry and Fisheries
Minister Michihiko Kano, and Former Transport Minister Sumio Mabuchi,
vied for the top post to succeed outgoing Prime Minister Naoto Kan.
(Xinhua/Kenichiro Seki)
Related stories
Editor:Zhang Dan |Source: CNTV.CN