Watch Video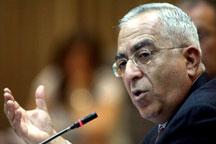 Play Video
Palestinian Prime Minister, Salam Fayyad, has called for international support for a Palestinian state, ahead of a bid at the United Nations in September.
The Prime Minister made the remarks during a visit by European Union Foreign Relations Chief, Catherine Ashton, to the West Bank. Fayyad and Ashton attended a ceremony to inaugurate the construction of a new security compound in the northern West Bank city of Jenin.
The project is funded with the assistance of the European Union. Ashton later held separate meetings in Jerusalem and Tel Aviv with Israeli Prime Minister, Benjamin Netanyahu and Defense Minister, Ehud Barak. Barak said the Palestinian UN move was "not productive". He urged the Palestinian leadership to abandon its plan and return to direct negotiations with Israel without preconditions.
Palestinian-Israeli peace talks collapsed following Israel's refusal to renew a moratorium on settlement building in the West Bank, where Palestinians hope to build a future state.
Ehud Barak said, "Approaching both the security council as well as the general assembly is not a productive way. It's much more productive to try direct negotiations without any preconditions but under whatever circumstances we try to avoid deterioration into violence, into any kind of turbulence and hope that the right way will be still found in the coming few weeks."
Catherine Ashton, EU Foreign Policy Chief, said, "I come here to discuss how we move forward with negotiations. I believe that the changes that you've described and that we've witnessed in the neighborhood, the changes in countries around Israel, give even more momentum to the need to try and find a solution that will enable the people of Israel and the people of Palestine to live in peace together."
Editor:Liu Fang |Source: CNTV.CN