Watch Video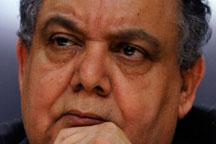 Play Video
Rebel forces are closing in on Muammar Gaddafi's hometown of Sirte. The rebels have rejected an offer by Gaddafi to negotiate. They have captured the eastern town of Bin Jawwad, forcing regime loyalists to flee after days of fighting.
With his regime crumbling, Muammar Gaddafi is on the run. But his chief spokesman, Moussa Ibrahim. says the Libyan leader is still in the country.
As the call for negotiations came, new signs emerged of arbitrary killings of detainees and civilians by Gaddafi forces during the rebels' push into Tripoli earlier this week, including some 50 charred corpses in a lockup.
National Transitional Council officials reject any idea of talks with Gaddafi, saying he's a criminal who must be brought to justice.
Mahmoud Shammam, information minister of NTC, said, "There is no negotiation. There were no negotiations before. And there will be no negotiations. They are criminals. They are running from justice and we are following them as criminals, we are not talking to them. We are going to arrest them."
NATO warplanes have struck Muammar Gadhafi's hometown of Sirte over the last few days because it says the town remains a threat to civilians. Meanwhile, Libyan rebels also control the road between Tripoli and Sabha, a bastion of support for Gaddafi in the southern desert. Rebels plan to advance on Sabha after taking control of Sirte.
Rebel military spokesman Ahmed Bani says that negotiations are taking place with tribal leaders in Sirte to "stop the bloodshed", as rebels threatened to advance on the city, if they don't agree to surrender.
He adds that the liberation of the cities will happen sooner or later, probably in a matter of days.
Editor:Liu Fang |Source: CNTV.CN