Watch Video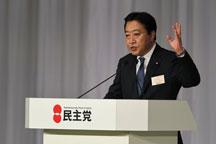 Play Video
Japanese Finance Minister Yoshihiko Noda has been selected as the new leader of Japan's ruling DPJ party. This has paved the way for him to become the next Prime Minister and face the daunting task of recovery after the earthquake and tsunami, battling a nuclear crisis and economic ills.
Yoshihiko Noda, Newly-elected Leader of DPJ said "Resolving the nuclear issue, reconstruction and recovery after the tsunami and earthquake, dealing with the high yen and the policy against deflation - altogether we have to expend our utmost efforts to push this heavy snowball back up to the top of the slope. I want to be tasked with the job of making people feel that the change of administration was worthwhile."
Finance Minister Yoshihiko Noda gives a speech shortly after he was elected as the
new leader of the Democratic Party of Japan during an election by the party lawmakers
in Tokyo Monday, Aug. 29, 2011. Japan's ruling party elected Noda as its new chief
Monday, paving the way for him to be the next prime minister and inherit the daunting
task of recovering from the huge tsunami and nuclear crisis. (AP Photo/Hiro Komae)
54-year-old Noda defeated Trade Minister Banri Kaieda in a run-off vote on Monday, after none of the initial five candidates won a majority in the first round. He will be formally voted in by parliament on Tuesday, and his Cabinet will likely be installed later this week. Noda is to become Japan's sixth prime minister in 5 years. He has to overcome a divided parliament and deep rifts in the ruling party if he is to make more of a mark than his predecessors.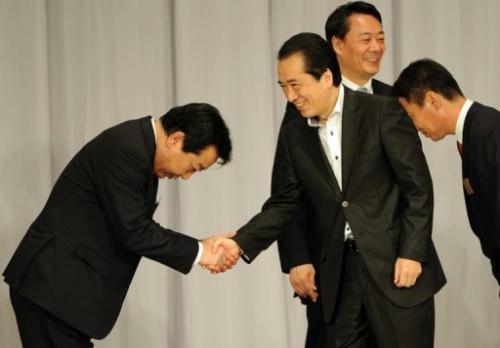 Finance Minister Yoshihiko Noda (L) is congratulated by Prime Minister Naoto Kan (3rd R)
after winning the party vote in the leadership election of the ruling Democratic Party
of Japan (DPJ) in Tokyo. Noda, who is set to be confirmed as prime minister on Tuesday,
has vowed a safe pair of hands in rebuilding the country from its tsunami-nuclear
disasters.
Related stories
Editor:Xiong Qu |Source: CNTV.CN