Watch Video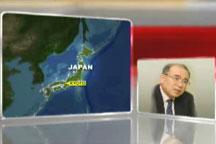 Play Video
For more on the election, we turn to Professor Takesato Watanabe from the Media Studies Department at Tokyo's Doshisha University. Thank you for joining us, Professor.
Q1: Noda's victory is considered kind of unexpected. So how do you account for Noda's election? And do you think it reflects the will of the Japanese people?
Q2: It seems the political path ahead is still gloomy for Noda. We all know that Japan has suffered frequent power shifts in the past five years, none of them could stay in power for more than a year. So why has this happened?
Thank you. That was Professor Takesato Watanabe in Tokyo.
Editor:Xiong Qu |Source: CNTV.CN