Watch Video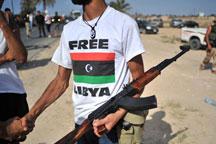 Play Video
NATO says it has no immediate plans to end its military operations in Libya. It also expressed its support for the rebels' attempts at a peaceful resolution to the stand-off at Sirte.
NATO has been keen to highlight its key role in the Libyan conflict.
Oana Lungescu, NATO spokesperson, said, "The NATO mission is important, it's effective and it's still necessary in order to protect civilians. As long as threats remain, there's still a job to be done and we will get that job done. The mission will continue in full compliance with a United Nations mandate for as long as it's needed but not a day longer."
NATO military spokesman Colonel Roland Lavoie says the coalition will continue to support the rebels as long as civilians in the country are under threat, even though the area around the capital, Tripoli, is now "essentially free."
400 kilometers east of Tripoli negotiations continue between the rebels and pro-Gaddafi forces over the fate of Sirte, Gaddafi's hometown. So far, the settlement shows no signs it's willing to surrender.
Colonel Roland Lavoie, NATO militray spokesman, said, "They (rebels) have shown signs of restraint in other cities and we have no reasons to believe that it will be different for the region of Sirte. We have also to keep in mind that there are dialogues going on not only in Sirte but also in the south in the area of Sebha. We are aware that the anti-Gaddafi forces are trying to seek a resolution, if possible without violence, to this conflict."
Rebels worry that if Gaddafi isn't killed or captured, he will incite further violence. The NATO military spokesman said he would not discount the possibility the rebels might yet be able to gain control of Sirte peacefully without bloodshed.
Editor:Liu Fang |Source: CNTV.CN