Watch Video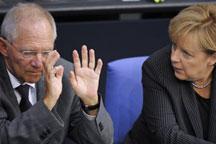 Play Video
Major leaders in Europe are giving their solutions to the twin debt crises. Angela Merkel says Europe is doing everything possible to prevent a Greece debt default. For Italy, European Council president Herman Van Rompuy gives top priority to reforms, in getting over its problem.
German Chancellor Angela Merkel met with Finnish Prime Minister Jyrki Katainen on Tuesday to discuss Greece's second bailout package - amid growing concerns about the health of the euro zone.
Finland is demanding collateral in exchange for committing to a new loan for Greece, which will otherwise run out of cash next month.
Merkel expressed confidence a solution would be found.
German Chancellor Angela Merkel speaks during a joint news conference with Prime
Minister of Finland Jyrki Katainen, not pictured, after a meeting at the chancellery
in Berlin, Germany, Tuesday, Sept. 13, 2011.
Angela Merkel, German Chancellor, said, "I believe that all of us want to and will find a path, a way forward that is open to all partners but is still in line with the Finnish wishes. Our experts are currently working on this."
Merkel has told German radio Europe is doing everything in its power to prevent a Greek default, and has warned that every decision related to the debt crisis must be carefully weighed up.
She said, "And we have to always consider that everything we do is controlled, that we know the consequences, because otherwise we can very quickly get a situation in the euro zone that we do not want and which will have very difficult consequences for all of us."
Protesters hit the streets of Athens again on Tuesday over the government's austerity measures.
Markets have already priced in the near certainty of a Greek default, with credit default swaps suggesting a 90 per cent probability of default in the next five years, according to Markit data.
The U.S. is worried, and has taken the unprecedented step of sending Treasury Secretary Timothy Geithner to a meeting of EU ministers in Poland on Friday.
Meanwhile markets are also piling pressure on Italy.
A closely watched auction of the country's debt on Tuesday saw the highest yields since joining the euro in 1999, giving no assurance Rome will be able to fund itself normally any time soon.
After meeting with Italian Prime Minister Silvio Berlusconi, European Council President Herman van Rompuy stressed Italy's reforms were important for the entire euro zone.
Herman van Rompuy said, "We also discussed the measures the Italian government will soon implement to reinforce economic growth and assure the sustainability of public debt in the future. The fiscal discipline and the reforms for growth are essential for market confidence."
The Italian parliament is due to vote on a crucial austerity package on Wednesday.
Related stories
Editor:Zhang Jingya |Source: CNTV.CN