Watch Video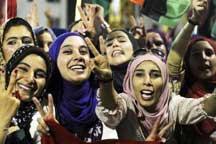 Play Video
Rebel fighters who fought for the liberation of the Libyan people have been honored at Tripoli's Martyrs Square. A carnival atmosphere engulfed the city as people celebrated freedom from the authoritarian regime of Muammar Gaddafi. Hundreds of people gathered to have pictures taken with the men they regard as heroes.
It's a moment to remember for all Libyans. Hundreds flocked to Tripoli's Martyrs Square to celebrate their newly-gained freedom.
Stalls sold sweets and drinks as well as merchandise, including the new Libyan flag.
People were frantically snapping photo shots on rocket launchers.
They also wanted pictures taken with rebel fighters. These men have survived six months of bloody war to oust military strongman Muammar Gaddafi, who maintained an iron grip on the country for four decades.
An anti-Gaddafi fighter said, "Every day you see faces in the hundreds and thousands. It's very crowded from early morning to late night. You see 500 or 600 families coming to have their pictures taken with us."
Children also posed to capture the moment for the years to come.
The rebel fighter says he wants to share this moment with his son.
With air support from NATO, National Transitional Council fighters took control of Tripoli late last month. They are now closing in on the three remaining Gaddafi strongholds of Bani Walid, Sirte and Sabha.
Editor:Liu Fang |Source: CNTV.CN