Watch Video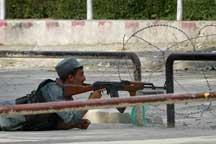 Play Video
An assault by Taliban insurgents in the heart of Kabul's diplomatic and military compound has been thwarted after 20 hours of exchanges of fire. Afghan security forces have killed all 9 attackers. But the renewed violence in the Afghan capital again raises concerns about the country's security situation.
A round of applause for a swift and successful operation.
A final barrage of helicopter gunfire sealed the victory for Afghan security forces early on Wednesday morning.
This half-built high-rise in downtown Kabul was taken over by the insurgents to fire at the nearby US embassy and NATO compounds.
And across Kabul, there have been several attempted suicide bombings in different locations. The civilian casualties are varied. NATO says 11 civilians were killed. And the toll is likely to rise.
Afghan security forces achieved victory largely on their own. NATO helicopters fired down on the building throughout the night. But the ground forces are all Afghan police.
Afghan Interior Ministry spokesman Sediq Seddiqi said, "Since yesterday there were four attacks on Kabul city, in which nine terrorists participated in these attacks. Six of them were in this building, they started the attack on this building yesterday at two o'clock, and our police were able to kill them, all six of them today."
What happened in the past 20 hours could be the longest and most audacious militant attack on the Afghan capital in the decade since the Taliban were ousted from power. The growing confidence of the Afghan security forces seems unable to totally dispel the fears.
Afghan Political Analyst Haroon Mir said, "Our worries are what will happen once NATO forces will leave the country because we all know that Afghan security forces will not be able to take full responsibility by 2014. This is why people are afraid."
The Taliban has claimed responsibility for the attack. But the US ambassador to Afghanistan says he believes the Taliban-affiliated Haqqani network is behind the assault.
Editor:Zhang Ning |Source: CNTV.CN