Watch Video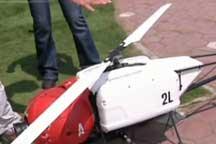 Play Video
This year, the Qiantang tides are the biggest in nine years. For the Qiantang River tides' coverage team, the debut of a secret weapon has inspired brand new ideas. An unmanned filming apparatus offers unprecedented angles of the tides. Our reporter Lu Yao takes us behind the scenes.
Her nickname is Sarah, a special aerial response automatic helicopter. It is her debut broadcast live on Chinese TV. She demonstrates natural wonders, adding spice for millions of audience members at home. Compared to a traditional helicopter, the unmanned craft has some advantages, especially operating in the natural elements.
"Sarah", is about 25 kilograms and comes with 30 minutes' of flight time. It is fitted with a 5 kilogram payload and a camera lens. Operators are able to control it through a remote. It can reach an altitude of 120 meters. Although operators usually keep the machine within eyesight, offering a bird's eye view of the Qiantang River tides requires the contraption to fly at a variety of odd angles.
For Sarah's operational crew, it sounds like the United Nations. It comes with a total crew of seven team members from Belgium, Germany, the US and China. They strive to pull things together, presenting the best visual effects of the Qiantang River Tides. They say they are very excited being part of the coverage team, and want to make sure Sarah will work to the best of her ability.
Related stories
Editor:Zhang Ning |Source: CNTV.CN