Related reading:
New Libyan leaders vow reconciliation
Libya's new flag flew at the United Nations on Tuesday for the first time since Muammar Gaddafi's overthrow as United States President Barack Obama called for the last of the deposed leader's loyalists to stop fighting.
International leaders at a high-level UN conference on Libya congratulated Libyans - and themselves - for Gaddafi's removal by Nato-backed rebels in a seven-month-old conflict.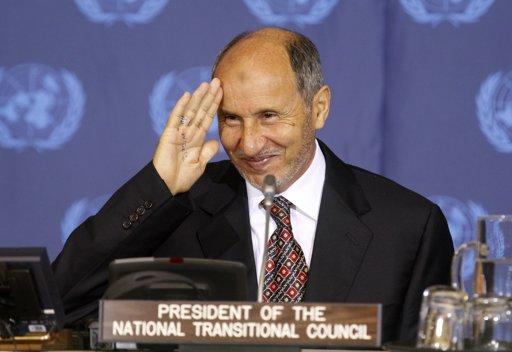 NTC chair Mustafa Abdel Jalil arrives at the United Nations meeting in New York
Reuters: Kevin Lamarque
UN Secretary-General Ban Ki-moon, welcoming Libya's new leaders into the international community, said the Security Council had acted to protect the Libyan people from violence.
"Today, we must once again respond with such speed and decisive action - this time to consolidate peace and democracy," Ban added.
Libya has reverted to the flag that was used from 1951 until 1977 when Gaddafi, who ruled for nearly 42 years, introduced a green flag for his Libyan Arab Jamahiriya, or people's republic.
Libya's new rulers, finally recognised on Tuesday by the African Union, are still trying to dislodge well-armed Gaddafi loyalists from several towns and have yet to start a countdown toward writing a new constitution and holding elections.
They face questions about whether they can unify a country divided on tribal, regional and ideological lines.
Mustafa Abdul Jalil, president of Libya's ruling National Transitional Council (NTC), promised a spirit of tolerance and reconciliation and appealed for international assistance to help his country emerge from conflict and build democracy.
"Today, the Libyan people are writing a new chapter in the life of their nation," Obama said, announcing the return of the US envoy to Tripoli. "We will stand with you in your struggle to realise the peace and prosperity that freedom can bring."
"Those still holding out must understand - the old regime is over, and it is time to lay down your arms and join the new Libya," Obama said nearly a month after Gaddafi was driven from power with the help of a Nato-led bombing campaign.
He further pledged: "So long as the Libyan people are being threatened, the Nato-led mission to protect them will continue."
Editor:James |Source: CNTV