Related reading:
Greek parliament passes new property tax bill
Greek lawmakers approved a controversial new property tax Tuesday that aims to boost revenue as the country struggles to obtain a critical installment of international bailout loans that will prevent it from default.
The new tax passed 154 votes to 143 against in the 300-member parliament. It was announced earlier this month after international debt inspectors suspended their review of Greek reforms amid talk of missed revenue targets and delayed implementation of austerity measures. The inspectors are expected to return to Athens this week.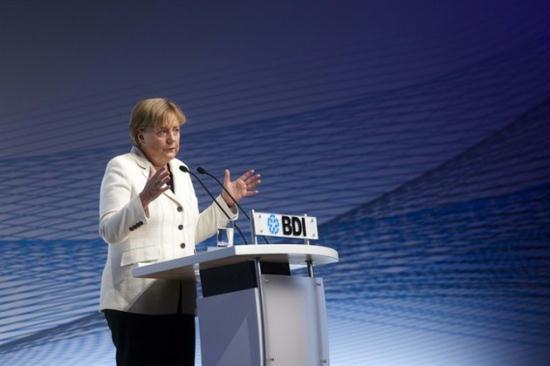 German Chancellor Angela Merkel delivers a speech at the annual conference of the
Federation of German Industry (BDI) in Berlin, central Germany, Tuesday, Sept. 27, 2011.
Merkel and Greek Prime Minister Georgios Papandreou spoke at the conference about their
economic policy and the financial crisis. (AP Photo/Markus Schreiber)
Greece must receive an euro8 billion ($11 billion) rescue loan before mid-October to stave off bankruptcy, a collapse that would send shock waves through financial markets in Europe and the world. But creditors have demanded more efforts to raise revenue.
The new tax will be charged through electricity bills to make it easier for the state to collect, instead of going through Greece's unwieldy and inefficient tax system. Those who refuse to pay risk having their power cut off.
But the extra charge has deeply angered Greeks, who have already been through more than a year of sharp austerity that has seen salary and pension cuts and increased taxes across the board. State electricity company unionists have threatened not to collect the tax.
Speaking before the vote, Finance Minister Evangelos Venizelos acknowledged the new tax was harsh on some, but stressed the government had no choice but to impose it as it fought to reduce its budget deficit.
"Clearly there will be categories of people who will not be able to pay this housing charge and this is a situation that will be resolved," he said. "But the most important thing is that we achieve the targets agreed to in 2011 and 2012."

Related stories
Editor:James |Source: CNTV