Related reading:
Angry Athenians march as tax vote looms
The Greek parliament is expected to approve a deeply unpopular property tax on Tuesday to lure international lending inspectors back to Athens and release vital aid, even as demonstrators stepped up protests against more austerity.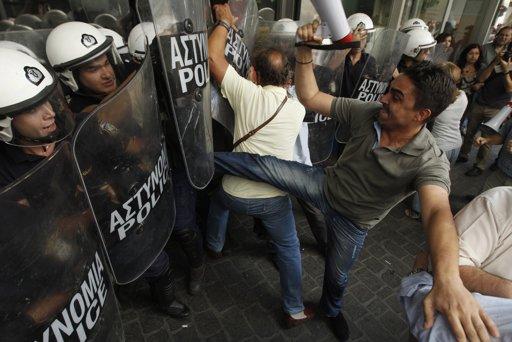 An employee of the Finance Ministry kicks a riot policeman during a protest against
the government's austerity measures at the entrance of the ministry in Athens,
September 27, 2011.
The vote is an important first test of the nation's ability to push through a new wave of belt-tightening to persuade the IMF (Berlin: MXG1.BE - news) and EU that it deserves an 8-billion-euro ($11 billion) loan it needs to pay salaries and avoid bankruptcy next month.
"The decisions of July 21 are like an institutional Bible to us," Finance Minister Evangelos Venizelos said, underling his commitment to meet the targets of a new bailout deal agreed this summer. "They are the framework within which we move."
But ordinary Greeks are exasperated at more austerity misery. Bus drivers and metro workers launched a strike to protest against the measures on Tuesday with tax collectors and some Finance Ministry officials starting a 48-hour stoppage.
A column of garbage trucks and city workers on motorcycles drove slowly in front of parliament honking horns in the ancient capital's Syntagma Square, where about 100 people were hurt in bloody clashes between protesters and police in June.
At the other end of the square, riot police held back hundreds of activists waving banners saying "No New Cuts!" and chanting "Take Your Bailout and Go Away!" who surrounded the finance ministry while Venizelos held a news conference inside.
Having grown increasingly impatient at the slow pace of reforms, a "troika" team from the IMF, EU and European Central Bank abruptly quit Greece this month threatening to cut off funds, prompting Athens to unveil an intensified strategy.
After Venizelos spoke with officials at a weekend IMF meeting in Washington, Eurogroup chairman Jean-Claude Juncker said he had been informed the team would retu0rn to Athens by Thursday, when sources close to the troika said they would start calculating whether Greece had done enough for the aid.
Venizelos said Prime Minister George Papandreou would send a letter of written assurances demanded by the inspectors to show the government is totally committed to meeting its obligations.
Related stories
Editor:James |Source: CNTV