Related reading:
Michael Jackson's doctor Conrad Murray goes on trial
Michael Jackson's personal physician, Conrad Murray, has gone on trial in Los Angeles, charged with involuntary manslaughter of the singer.
Prosecutors said he acted with "gross negligence" and gave Jackson a lethal dose of the sedative propofol that caused his death in June 2009.
The defence said Jackson gave himself too much of the drug, a sleeping aid.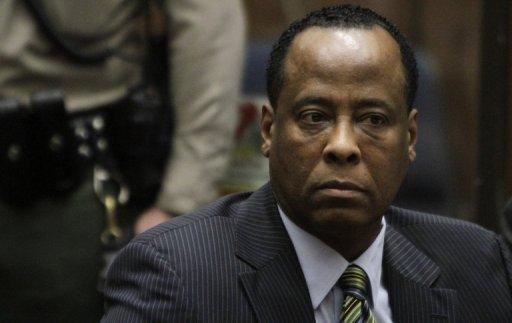 Michael Jackson's doctor Conrad Murray sits in court at his arraignment January 25,
2011 at Superior Court in Los Angeles, California.
Dr Murray, 58, who denies the charge, could face four years in jail and the loss of his medical licence.

In Tuesday's opening statement, lead prosecutor David Walgren told the court the evidence would show "Conrad Murray repeatedly acted with gross negligence, repeatedly denied appropriate care to his patient, Michael Jackson".
"That misplaced trust... cost Michael Jackson his life."
The jury was shown a photo of the 50-year-old singer's pale body lying on a gurney after he died, and heard a recording of the pop star slurring while talking about planned comeback concerts.
AdvertisementSlurred audio of Michael Jackson taken from a message on Dr Conrad Murray's phone
Mr Walgren said the audio, aired in public for the first time, had come from a message on Dr Murray's mobile phone.
"When people leave my show, I want them to say, 'I've never seen nothing like this in my life'," says Jackson, apparently heavily drugged, on the audio.
"Go. Go. I've never seen nothing like this. Go. It's amazing. He's the greatest entertainer in the world."
The prosecutor said Jackson's difficulty in speaking on the recording showed that Dr Murray ought to have realised the star should not have taken any more propofol.
Mr Walgren said that after administering what it says was the fatal dose, Dr Murray had not been attentive to Jackson's health.
Jackson death trial opens with grim photos
Grim photos of Michael Jackson lying dead in a hospital bed juxtaposed with a picture of the "Thriller" singer rehearsing the day before his demise brought an emotional opening on Tuesday to the manslaughter trial of the doctor hired to care for him... Full story>>