Related reading:
TOKYO: Japan and the Philippines agreed to boost sea security Tuesday amid China's growing assertiveness over territorial claims and resources in the region's waters.
Japanese Prime Minister Yoshihiko Noda and visiting Philippine President Benigno Aquino III said the two island nations both believe that unimpeded commerce and peace must be preserved in the South China Sea.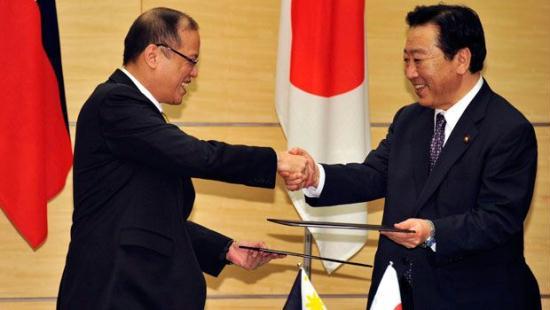 Philippine President Benigno Aquino III (L) and Japanese Prime Minister Yoshihiko Noda exchange documents as they signed on their agreements in Tokyo on Tuesday. (Reuters)
"The South China Sea is vital, as it connects the world and the Asia Pacific region, and that peace and stability therein is of common interest to the international community," they said in a statement.
They also agreed to step up cooperation in combating piracy in the region.
Japan and the Philippines each have territorial disputes with China.
Japan and China both claim a small island chain in the East China Sea. A collision in the area last year between Japanese patrol boats and a Chinese fishing trawler sent diplomatic relations to their lowest level in years. In recent months, Tokyo has repeatedly lodged complaints with Beijing over the entry of Chinese vessels into Japan's special economic zone.
The Philippines is involved in several territorial disputes in the South China Sea, where the Spratly archipelago is sought by six claimants and the Paracel islands by three. China claims the entire South China Sea.
"Being both maritime countries, we affirmed there are binding interests in cooperating on maritime security issues," Aquino said.
The two leaders also called for boosting economic ties. Tokyo promised to make it easier for Filipino nurses to work in Japan.
"The two countries share basic values and strategic interests. This time we agreed to further enhance our strategic partnership, which is a major accomplishment," Noda said.
Aquino also visited a tsunami-damaged region in northeastern Japan and is to meet with Emperor Akihito before returning home Wednesday.
Related stories
Editor:James |Source: CNTV