Related reading:
Buenos Aires – A mysterious explosion on Monday that left one person dead and eight others injured on the outskirts of the Argentine capital has sparked all sorts of conjecture, with local residents saying they saw "a powerful flash" and experts saying it might have been a meteorite.
"It was like a horror film. Everyone ran out of their houses, there were cars spinning around and the windows looking out on the street shattered," one of the residents of Monte Grande, 28 kilometers (17 miles) from Buenos Aires, told Efe.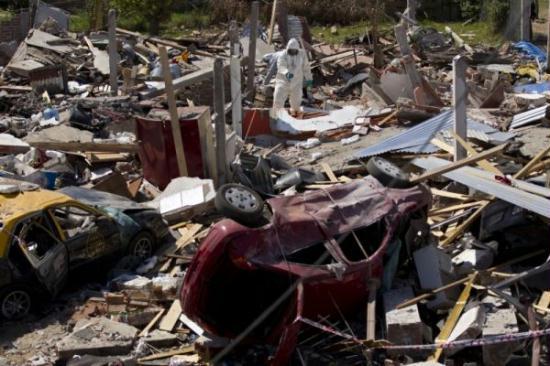 Photo credit: AP | Police check for radioactivity at the site of an explosion in Buenos Aires, Argentina, Monday, Sept. 26, 2011. The explosion left one dead person and at least six injured. (AP Photo/Victor R. Caivano)
Another resident who lives near the two houses destroyed in the blast said he had seen "a very strong flash followed by an enormous noise," an account that agrees with that of an employee at a nearby 24-hour store.
There were also people who said they had seen a ball of fire falling from the sky.
The media fed the speculation by disseminating a photograph allegedly taken by a resident in which a red circle of light is seen falling through the darkness.
Authorities are investigating what happened to get the townspeople of Monte Grande in such an uproar, but so far no official explanation has been released for the event that came just two days after a more-than-5-ton NASA satellite, the remains of which have not yet been found, plummeted to earth.
A NASA spokesman contacted on Monday by Efe, ruled out the possibility that the blast was caused by the UARS satellite, since - according to the calculations of the U.S. space agency, almost all the pieces of the satellite fell into the Pacific Ocean on Saturday.
"The probability that it might be a meteorite is low, but it exists," the director of the Buenos Aires Planetarium, Lucia Sendon, told Argentine television.
"Most (meteorites) fall in other spots on the planet's surface, which is three-quarters covered with water," she said.
If it does turn out to be a meteorite that hit Greater Buenos Aires, this would be an "unprecedented" occurrence in Argentina, added Mariano Ribas, the Planetarium's astronomy coordinator.
"Nothing is being ruled out. It has to be analyzed. Let's have patience, let's wait a bit and I think that in a few hours we'll be able to have (resolved) the mystery. There's no crater, there's just a precise igneous focus," Buenos Aires provincial Justice and Security Minister Ricardo Casal told the press.
The woman who died in the blast was identified as Silvia Espinoza, a 43-year-old Peruvian who was visiting some relatives who lived in one of the houses destroyed in the incident.
The injured were taken to a nearby hospital and two have already been released.
Editor:James |Source: CNTV