Watch Video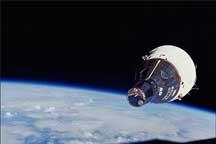 Play Video
The United States launched the "Gemini 6" spacecraft on the morning of December 15th, 1965. "Gemini 6" was to chase its sister "Gemini 7" , another spacecraft which lifted off from Cape Canaveral in Florida on December 4th, 1965. "Gemini 6" and "Gemini 7" were manned United States spaceflights in NASA's Gemini program. This mission achieved the first
manned rendezvous with another spacecraft. The rendezvous took place over the Pacific Ocean on the fourth orbit of "Gemini 6". The crews moved as close as 30 centimeters, talking over the radio.
"Gemini 8" was the sixth manned spaceflight in NASA's Gemini program. It conducted the first docking of two spacecraft in orbit with the unmanned aerocraft "Agena Target Vehicle" on March 16th, 1966. But it suffered the first critical in-space system failure of a U.S. spacecraft which threatened the lives of the astronauts and required an immediate abort of
the mission. The crew returned safely to Earth.
Rendezvous and docking technology is applied to the assembling of large space capsules as the technology becomes more and more mature. On June 29th, 1995, the Space Shuttle Atlantis docked with the Russian space station Mir for the first time. The two capsules traveled over 7000 meters per second when they were over a Russian ground station in Asia. The
rendezvous and docking were controlled and guided by the ground station. The docking had to be completed in just two minutes. Based on data constantly provided by the astronauts, the relative speed of the space shuttle and the space station was controlled at under 3 millimeters per second, realizing a successful docking. This time, the rendezvous and
docking technology was applied to space error overhaul, fuel addition and parts replacement.
In 1997, Japan launched two unmanned independent rendezvous-docking satellites weighing 2.5 tons and 0.5 ton. The two satellites detached from, rendezvous and docked with each other many times. It was the first independent rendezvous and docking in the world.
After more than 40 years' exploration, study and experiment, rendezvous and docking technology is becoming more and more mature. Instead of being controlled jointly by the ground station and astronauts, it is now automatically and independently controlled. The international space station is the best platform for realizing rendezvous and docking technologies of all kinds. This technology contributes much to space exploration as it makes it more efficient.
Related stories
Editor:Xiong Qu |Source: CNTV.CN