Watch Video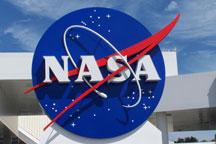 Play Video
The US space agency NASA is facing an uncertain future following the retirement of the shuttle program. The agency no longer has the means of transporting astronauts or cargo into orbit, and is replying solely on Russia to gain access to the International Space Station. CCTV correspondent Steve Mort reports from Florida - home to America's largest spaceport.
The space shuttle Atlantis blasted off from the Kennedy Space Center for the final time in July. The mission marked a temporary end of American space flights. But NASA Administrator Charles Bolden says commercial industry will begin carrying cargo from the United States to the International Space Station within months.
Charles Bolden, NASA administrator, said, "NASA is now handing off the transport to the space station to American industry so we can focus on a new series of firsts like sending humans to an astroid and eventually to Mars."
But before NASA achieves the long-term goal of getting Americans deeper into space, it has shorter term problems. Its astronauts will now have to ride into orbit onboard Russia's Soyuz spacecraft at a cost of more than 60 millions dollars a seat. The government hopes US private industry will eventually take over human flight to low-Earth orbit, in addition to carrying cargo.
Scott Parazynski, a former NASA astronaut, said, "I am so excited about this new industry and its potential. I think there will be some challenges that wont come as quickly as we'd probably like, there may be some setbacks, it may not be as inexpensive as its been proposed but, still, it's going to happen and there are going to be many more opportunities for many more people to experience space."
Last December, US company Space X became the first commercial operator to launch a capsule into space and return it to Earth. The company is one of those tasked by the government with carrying cargo, and possibly astronauts to the International Space Station which is due to remain in use until at least 2020. Until NASA develops a way for astronauts to reach Mars or an astroid, the Obama administration wants the agency to focus on science that does not involve human space flight.
Daniel Lockney said, "We really need to increase our focus on technology and innovation, and with that renewed interest in focus on technology and innovation new scientific discoveries will come about and NASA will continue to find new ways to apply those in areas outside the aerospace realm."
NASA was forced to shelve its own program, called Constellation, that would have replaced the shuttle in taking astronauts back the International Space Station. But the design of its axed Orion module now forums the basis of a potential NASA vehicle that could one-day propel Americans to far-flung destinations.
While NASA officials put a brave face on the future of the American space program, there is little doubt that much uncertainly remains. As private industry takes the lead in low-Earth orbit flight, NASA's mission is less clear, and may remain murky for some years to come.
Related stories
Editor:Zhang Dan |Source: CNTV.CN