"What is the role of Jiuquan Satellite Launch Center ?"
Cui Jijun, Chief Commander of Jiuquan Satellite Launch Center said "The Launching Site System is responsible for the organization, command, planning and coordination of this mission. It's also responsible for testing, fueling and launching of the carrier rocket, providing technical support for the test of the target vehicle and payload. After the liftoff, we also retrieve the discarded parts and the payload fairing. From Jiuquan, Tiangong One will be sent into into its designated orbit, and it's our job to make sure all parts functions well throughout the process."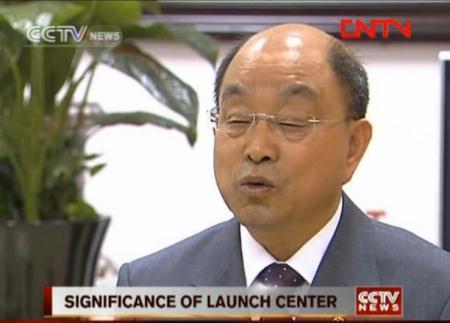 Cui Jijun, Chief Commander of Jiuquan Satellite Launch Center
" The Launch site has completed with 50 technical improvements and innovations for this particular launch, could you specify the major ones? "
Cui Jijun said "We have made several major changes to the launch tower, including a new
facility for testing and closing payload fairing on the target vehicle. We also expanded the command center and improved Dongfeng Monitoring System. During the liftoff of Shenzhou 1 to 7 spacecrafts, we closed the fairing twice. Once before the propellant loading, and once after. But now, we only close the fairing once, and conduct electrical testing only after the assembled spacecraft and rocket being shifted to the launch pad. With less
redundant procedure, the whole process is more efficient and scientific. By closing the fairing once, we saved at least thirty days in processing time.
" The Long March 2F carrier Rocket is assembled, tested and moved to the launch pad vertically, what's the benefits of this model? "

"The vertical assembly, testing, transportation, tele-testing and launch control is widely used to launch China's manned spacecrafts. All of Shenzhou Spacecrafts used this model. Its advantages is to keep all the preparation work within the vertical assembly line to improve on safety and reliability. If the rocket and Tiangong are assembled horizontally, an extra round of test is required when it was lift up. The model, which maintain the status of the assembled rocket and spacecraft, will help to achieve success rate in launching. "

Editor:James |Source: CNTV