Related Reading:
More survivors found as quake rescue continues in Turkey
VAN, Turkey, Oct. 25 (Xinhua) -- Day and night, survivors and rescuers battled to pull people out of the debris in the quake-struck eastern province of Turkey, especially the worst-hit town of Ercis.
"Please keep silent, we need to listen to the signaling sound of possible survivors," rescuers' words silenced a site where hundreds of people clustered. Electric generators were also turned off temporarily.
So far a total of 366 people died from Sunday's earthquake that hit Turkey's eastern province of Van. About 3,000 to 4,000 buildings were destroyed and hundreds of people remain trapped under rubble.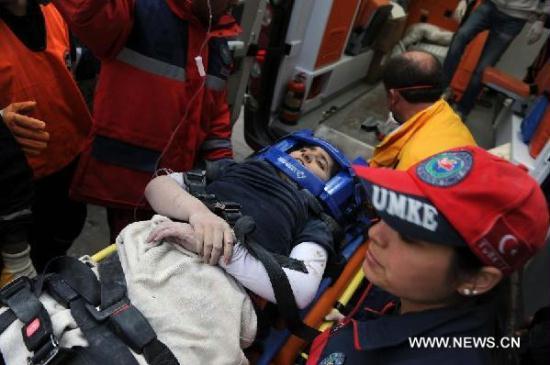 An earthquake survivor is carried by rescue workers from a collapsed building in Van province of Turkey, on Oct. 24, 2011. (Xinhua/Ma Yan)
After detecting instrument captured the weak sound under debris, a young girl was soon rescued and sent to hospital.
A 7.2-magnitude earthquake hit one-million-population Van on Sunday afternoon. The quake severely damaged Ercis, a town of 75, 000 people, close to the Iranian border where about 80 multi-story buildings collapsed. The region is among Turkey's most earthquake- prone zones.
Survivors spend their second night in the makeshift tents while rescue teams are still working on in the quake-hit areas, especial the town of Ercis which was at the epicenter of Sunday's earthquake.
Rescuers pulled a two-week-old baby girl alive Tuesday out of the rubbles in Ercis, where her mother also survived but was still trapped. Meanwhile, a 7-story building with 46 apartments collapsed in the quake-stricken province of Van.
Saleh, a young boy, pointed to a damaged building and told Xinhua, "My home is over there. We are living in a tent due to aftershocks."
Over 200 aftershocks were recorded in the wake of the 7.2- magnitude earthquake, the biggest ones measured 5.7 and 5.5 on the Richter scale, according to data from the Istanbul-based Kandilli Observatory and Earthquake Research Institute.
At another site, a 13-year-old Turkish boy whose legs were buried by the debris and a female teacher Honeyfi, a survivor of the Turkish earthquake in 1999, were successfully rescued.
A total of 26 planes carrying relief material, hundreds of engineering vehicles and large quantities of aid material have been sent to the disaster-stricken area, a statement from the Prime Ministry's Disaster and Emergency Management Directorate said.
Over 3,000 search and rescue personnel, 355 engineering vehicles and more than 100 ambulances were dispatched to the region.
Turkey, lying atop the North Anatolian fault, has been plagued by earthquakes frequently. On March 8, 2010, at least 38 people died and dozens of others injured after a 6.0-magnitude earthquake hit the province of Elazig in eastern Turkey.
On Aug. 17, 1999, two powerful earthquakes, measuring 6.7 and 7. 4 on the Richter scale respectively, hit northwestern and western Turkey, killing about 18,000 people and affecting hundreds of thousands of others.
Editor:James |Source: CNTV