Thai Prime Minister Yingluck Shinawatra laid out a worst-case scenario as a deluge of water approaches Bangkok, telling residents to take precautions and expect low levels of flooding as a high tide nears.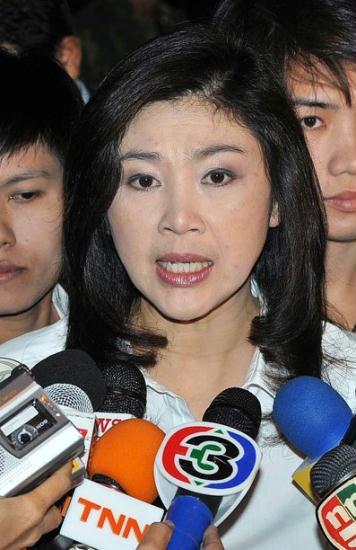 This photo, released by the Thai Government, shows Prime
Minister Yingluck Shinawatra talking to reporters in
Bangkok, on October 22. Thailand's prime minister warned
that the kingdom would endure at least one more month of
flooding, telling anxious residents in the capital Bangkok
to prepare for possible metre-deep water. (AFP Photo/)
"There is a possibility that the water will run through the center of Bangkok," she said in a national address late yesterday. "The severity of the flooding will depend on the altitude of each area."
Water levels in parts of Bangkok may reach as high as 1.5 meters (5 feet) if a major breach occurs in dikes to the north of the capital, she said. In most places, flood depths may reach about 50 centimeters, she said.
Diverting a three-meter-deep wall of water approaching Bangkok is key to sparing the city from the severity of floods that have inundated about 10,000 factories north of the city, disrupting the supply chains of Apple Inc. (AAPL) and Toyota Motor Corp. (7203) The effort hinges on the strength of untested dikes, said Adri Verwey, a scientist who is advising Yingluck.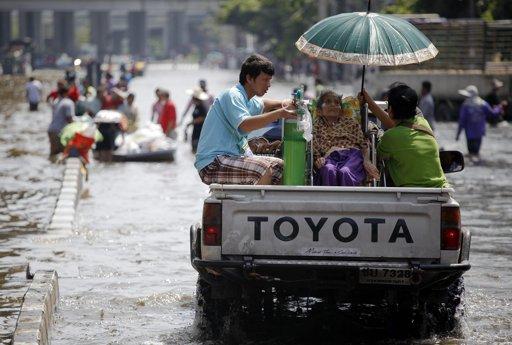 An elderly woman is evacuated as floods advance into Bangkok October 23, 2011.
Thailand's capital was braced for more flooding on Sunday as water levels rose in
some of Bangkok's northern suburbs and troops raced to fortify defence walls to
protect two key industrial zones. REUTERS/Damir Sagolj
"The problem is the dikes have never been put under such high pressure," said Verwey, a specialist with Deltares, a Netherlands-based research institute, who has been helping advise Thai officials the past two weeks with the support of the Dutch government. "Any dike system that comes under extreme conditions will show failures."
Thailand's government yesterday announced a five-day holiday starting tomorrow for 21 northern and central provinces including Bangkok to give people time to prepare for flooding. Commercial banks and financial markets will remain open, according to the Bank of Thailand.
Editor:James |Source: CNTV