Watch Video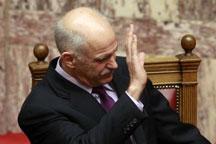 Play Video
Greek Prime Minister George Papandreou's surprise call for a referendum on the fresh EU aid package for the debt-laden country has turned into a high risk gamble, with fierce reactions inside his assembly and on the streets of Athens.
Lawmakers in Greece's ruling Socialist party revolted Tuesday over their Prime Minister's surprise decision to hold a referendum on a European debt deal, threatening the very survival of his embattled government.
George Papandreou's announcement on the public vote unleashed political and market turmoil around Europe and the world, and left observers wondering just how long his government could hold on.
Papandreou appears to have told few people about his decision beforehand, leaving even his finance minister, Evangelos Venizelos, in the dark.
Venizelos defended the move after the speech, but a Greek official said the minister had to back the Prime Minister amid huge dissent over government's repeated austerity drives.
Greece has been surviving since May 2010 on a multibillion international bailout, but a second bailout is needed.
European leaders held marathon negotiations last week to arrive at a new debt deal, which aims to seek 50 percent losses for private holders of Greek bonds, and provide the troubled eurozone member with 100 billion euros in additional rescue loans.
Markets around the world plunged Tuesday on fears that the Greek vote will unravel Europe's plan to save the 17-nation euro.
Editor:Zhang Jingya |Source: CNTV.CN