Watch Video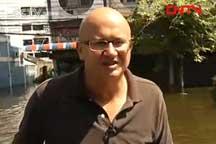 Play Video
Local residents and Thai police have been in a tense stand-off in a Northern suburb of Bangkok, after a sluice gate was broken on Monday to release the flood waters swamping homes.
The residents broke the gate, saying they're being penalized to save central Bangkok. Similar clashes have been reported in other suburbs.
Government-built flood barriers have been pulled down and, as Tony Cheng reports, the ensuing splits are dividing the Thai capital.
This is the tale of two cities, that both share the same name. One is dry and hot where life is going on as normal…the other is drowning, swallowed up in a rising sea of murky brown water. The city is Bangkok. In the north eastern suburb of Klong Samwa, reinforcements arrive to battle against the floods.
But they are not filling sandbags or manning pumps. These are riot police, here to protect the flood gates, gates that were broken down by angry residents yesterday.
A police officer of Bangkok said, "We have put some policemen here to make sure that public property is not destroyed."
But the residents want the canal gates opened up wide. They say their homes and business are being flooded so central Bangkok can survive, MP's who had promised to release the gates and lower the waters, went against their word.
A local resident said, "It happened because the locals came here to demand the water was lowered, and they didn't do it, and the authorities didn't explain clearly what as going on."
Elsewhere it is too late. This is the area of Laksi, underwater now for three days. The floods here were due to the water run off from the north, not the rising tides, and the situation is still severe. Most local residents had ignored the government's advice to get out, but now its time to leave. The army admitting defeat to, a column of armored personnel carriers retreating in the face of a formidable foe.
As we film our truck is flagged down. People desperate to get out by whatever means clamber aboard, Northern Bangkok has become a bizarre waterworld. And the city still not safe. The governor saying last night that a second wave of water could be coming from the North to submerge even more of the Thai capital.
Editor:Liu Fang |Source: CNTV.CN