Watch Video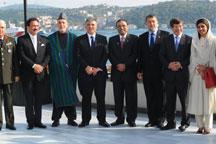 Play Video
Afghan President Hamid Karzai and Pakistani President Asif Ali Zardari have met in Turkey, ahead of a regional conference on the future of Afghanistan, hosted by Turkish President Abduallah Gul. The leaders will work on easing tensions in the region, in the run up to the withdrawal of western troops from Afghanistan in 2014.
The gravity of Af-Pak relations was demonstrated by a full show of diplomatic and military force in Istanbul on Tuesday.
Pakistan's top brass including the President, Foreign Minister and it's Army Chief were all present while the Afghan delegation included President Karzai and army chief Lt. Gen. Sher Mohammad Karimi.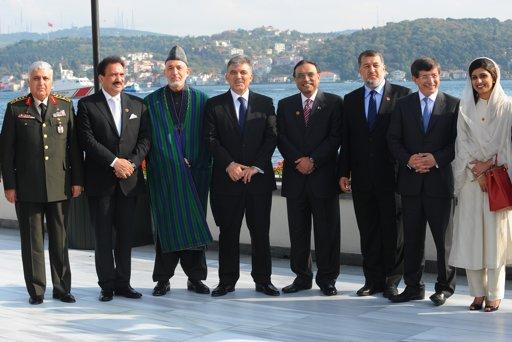 From left to right, Turkey's Chief of Staff Gen. Necdet Ozel, Pakistan Interior
Minister `Rahman Malik, Afghan President Haamid Karzai, Turkish President Abdullah
Gul, Pakistan President Asif Ali Zardari, OSCE
The talks were intended to iron out differences between the neighbours ahead of a wider conference on Afghanistan.
Pakistan's relationship with neighbouring Afghanistan has been tense of late with each side casting doubt and suspicion on the other.
Turkish President Abdullah Gul, center, his Afghan counterpart Hamid Karzai, left,
and Pakistan President Asif Ali Zardari join hands at the end of a news conference
in Istanbul, Turkey, Tuesday, Nov. 1, 2011.
This is the first time the two sides have met since former Afghan President Burhanuddin Rabbani was killed in a suicide bombing -- an attack Kabul blames on Islamabad.
The investigation into his assassination was clearly still a sticking point.
Hamid Karzai, Afghan President, said, "Rabanni assassination thrown process into difficulty. Fruitful Pak-Afgh relationship."
For it's part, Pakistan is suspicious of Afghanistan's close ties with it's rival India -- they signed a strategic partnership agreement last month, escalating Islamabad's fears of sandwiched by unfriendly neighbours.
At the press conference after the talks, President Zardari spoke about his concerns.
Pakistani President Asif Ali Zardari said, "Region has to take responsibility, others may want to help but they don't know our traditions and culture. Turkey best placed to mediate as another Muslim country."
Today's trilateral talks between Pakistan, Afghanistan and their Turkish hosts here at the Cirgan Palace Hotel will set the tone for Wednesday's summit. And while not critical at this particular juncture, it's hoped that positive outcomes can be reached.
Editor:Zhang Jingya |Source: CNTV.CN