Watch Video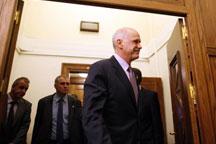 Play Video
Greek Prime Minister George Papandreou and opposition leader Antonis Samaras have agreed to form a new coalition government, that will approve a euro zone bailout deal before elections. The office of the country's president made the announcement on Sunday.
The agreement came after the two leaders held talks with the president in an effort to break a political deadlock and to form a national unity government. The presidential office says Prime Minister George Papandreou will not head the interim government and that talks on who will form the new Cabinet will continue Monday.
The interim government is expected to be in place for about three to four months in order to ensure a new European debt deal and secure a vital instalment of bailout loans that Greece needs to avoid default. The European Union gave Greece 24 hours on Sunday to explain how it will form a unity government to enact the latest bailout agreement.
Antonis Samaras (1st L), head of the conservative New Democracy party, meets with Greek President Karolos Papoulias (2nd L) in Athens Nov. 6, 2011. Greek main opposition leader Antonis Samaras insisted on Sunday that Prime Minister George Papandreou should resign before any negotiations on a national coalition government. (Xinhua/Marios Lolos)
Antonis Samaras (L), head of the conservative New Democracy party, shakes hands with Greek President Karolos Papoulias during their meeting in Athens Nov. 6, 2011. Greek main opposition leader Antonis Samaras insisted on Sunday that Prime Minister George Papandreou should resign before any negotiations on a national coalition government. (Xinhua/Marios Lolos)
Editor:Zheng Limin |Source: CNTV.CN