Watch Video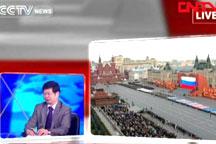 Play Video
For more on the annual parade Russia's Red Square, we are joined in the studio by Mr Liu Youfa, vice president of the China Institute of International Studies.
Q1: Why is this parade such an important tradition in Russia?
Q2: When it comes to history, what can you tell us about the role the Soviet army played in the European theatre during the World War two?
Q3: During peace-time, how does this annual parade help encourage national unity and pride?
Q4: Russia has another important annual parade, the Victory Day parade, which takes place in May. It marks the surrender of Nazi Germany in World War Two. What are the differences between these two events?
Q5: You've been following the parade today, can you tell us about the highlights of today's event?
Q6: Besides soldiers and military hardware, 4 thousand representatives of the Moscow Children's Movement are also taking part, including those from military-patriotic clubs, amateur archaeological teams and cadet schools. Does this mean the parade has an educational dimension as well?
Q7: The parade is coinciding with the tenth leaders meeting of the Shanghai Cooperation Organization, which is also being held in Russia. What role can Russia play in maintaining regional peace and security?
Q8: When we look at a nation's military strength, should also take soft power into account, such as the level of national patriotism and military preparedness?
Editor:Zhang Dan |Source: CNTV.CN