Watch Video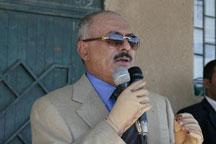 Play Video
Yemeni President Saleh has been in power for 33 years. Since the protests began in January, he has made verbal concessions, but has yet to sign any concrete plan and he has already backed out three times from an agreement at the very last minute.
Saleh was seriously wounded in an assasination attempt in June. During his recuperation in Saudi Arabia, he made several media appearances in which he agreed to look at restarting the Gulf Arab peace plan and said he would return to Yemen soon.
Earlier in September, Saleh empowered his vice president to sign a power transition plan and conduct a dialogue with the opposition on his behalf. However the opposition rejected this. Saleh flew back from Saudi Arabia on September 23rd, as tens of thousands protested in Sanaa against his return.
Saleh was seriously wounded in an assasination attempt in June. During his recuperation in Saudi Arabia, he made several media appearances in which he agreed to look at restarting the Gulf Arab peace plan and said he would return to Yemen soon. (File Photo)
Editor:Zheng Limin |Source: CNTV.CN