Watch Video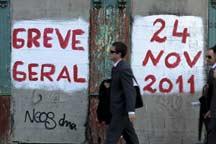 Play Video
A 24 hour general strike is underway in Portugal, as demonstrators protest against austerity measures that have led to deep pay cuts and mass job losses. While some are demanding that the government act to stimulate economic growth and create jobs, some are complaining about the disruptions being caused by the strike.
Even before dawn, workers across Portugal were on the streets demanding improved living conditions, as the debt-laden country enters its harshest recession in decades.
The industrial action was organized by the country's two major workers' unions, which represent some 90 percent of unionized workers in the country.
The strike was called after the government announced its 2012 draft budget that includes substantial benefit cuts.
Joao Proenca, leader of General Workers' Union, said, "We want dialogue, negotiation. We want politics focused on job growth and we want a compromise from the parties on these policies. We want better conditions in order for the country to deal with the crisis more effectively."
But whether the strike can have any real impact on policy remains to be seen.
Right now, the direct effect of the industrial reaction has been to shut-down of public services and disrupt transportation. Lisbon International Airport ground to a halt late Wednesday evening, while the Lisbon subway, trains and other modes of public transport are set to close throughout Thursday .
Commuter Edna Silva said, "I don't think they should be striking because it affects people who have nothing to do with it."
Nurse Daniel Pereira said, "The strike is not going to do anything, the people are being affected and the unions are going to win, but not the Portuguese people. A strike will close everything, rather than maintain minimal services. It will block everything completely."
The strike is the first major sign of popular discontent since the election of the centre-right Portuguese government in June.
The conservative government has had to bring a barrage of austerity cuts to comply with the bailout plan needed to save the country from bankruptcy.
Related stories
Editor:Zhang Ning |Source: CNTV.CN