Watch Video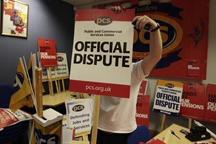 Play Video
Britain is set to witness its largest strike in 85 years. Union chiefs have confirmed a mass walkout by public sector workers will definitely go ahead Wednesday. The strike, which will involve up to two million workers, could be the biggest industrial action since Britain's General Strike of 1926. Richard Bestic reports from London on a huge challenge to the British government over public sector pension reforms.
Public sector workers have been out on the streets already this year. Protesting against government plans to make them work till they're 68 and pay more into their pensions. This time some 25 unions walking off the job.
Public and Commercial Services Union (PCS) organiser Alan Brown staples
a an official dispute placard together at their headquarters in Edinburgh,
Scotland November 29, 2011.
Including border officials at airports where 12 hour delays are anticipated and the army's on standby to help.
Parents will need to make alternative childcare arrangements as most of the country's schools will be closed.
And in Britain's hospitals thousands of operations will be rescheduled.
The people here facing 24 hours without any of the services usually provided by the public sector.
Support for the action is mixed.
Britain's biggest teachers' union says a deal was agreed, taking account of people's longer life expectancy.
But further strikes are more likely than further concessions.
A cash strapped British government says public sector workers will continue to get among the best pension's schemes available for some even better than they're getting now.
Reporter: "For the two million striking workers it'll be more than a day of protest. It'll be a test of the trade union movements remaining powers. And for the government it'll be an indication of whether a winter of discontent lies ahead. "
Related stories
Editor:Zhang Rui |Source: CNTV.CN