Watch Video
Play Video
The UN climate change talks have opened in South Africa. With carbon emissions reaching record levels. The focus is on salvaging the only treaty aimed at capping greenhouse gases. But as our reporter, Wu Haojun, has finds out, reaching a consensus on the issue won't be easy.
The world needs to put a lid on its carbon emissions a point clearly made by the president of the host nation of the COP-17 climate talks.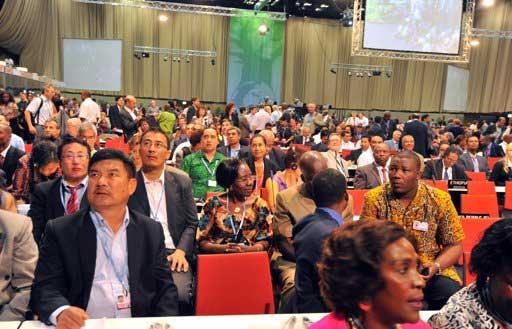 Delegates attend the opening of UN talks on climate change in Durban. UN climate
talks got under way here Monday amid calls for action to head off worsening drought,
floods and storms but also to fears of a bust-up just two years after a near-fiasco
in Copenhagen.
It's a feeling shared by many African nations, where food production may be halved by 2050 as a consequence of climate change. This is also the case for small island nations, whose very survival depends on global efforts at cutting emissions.
While those facing the dire consequences from emissions have reiterated their commitment to cut back, activists say they're concerned that developed nations might not rise to the occasion.
This applies to the US, which dropped out of the Kyoto Protocol in 2001, on grounds that it potentially hurt their economy. Meanwhile, Canada, Australia and Japan have already indicated they won't be signing up for the pact's second commitment period.
Unsurprisingly, the developing world has taken a different stance.
According to a White Paper on climate change issued by the China's top economic planning body, the country's energy use per unit of GDP decreased by around 19% in 2010. That's 1.5 billion tons in reduced CO2 emissions. And countries like Brazil, India and South Africa have also outlined ambitious targets in cutting emissions.
But in order to stop the Arctic melting, all nations at the conference will have to first break the ice on talks in Durban.
Many countries have plans to develop solar energy that are attracting public
and private investment.
Coal trains on the tracks near Dry Fork Station, a coal-fired power plant being built
by the Basin Electric Power Cooperative near Gillette, Wyo.

Related stories
Editor:Zhang Rui |Source: CNTV.CN