Watch Video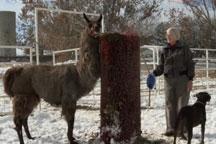 Play Video
A US company says it's found a way to make money off the recession. Re-purposed Materials specializes in devising ways to transform waste from one industry into usable products for another industry.
As Steve Mort reports, the company says it's growing rapidly as cash strapped businesses look to save on new infrastructure.
It's a scratching post now for this llama, but it used to be a sweeper brush used for years to clean Colorado's streets. A new livestock brush might cost more than a thousand dollars. But this one cost about a hundred.
Ranch owner Diane Seaman picked it up from Denver-based Repurposed Materials which takes waste industrial by-products like this, and finds new uses for them.
Diane Seaman said, "We're hoping that this will be a great benefit to him. He'll have something really substantial to lean and scratch against that's probably going to scratch his back better than the ground."
Damon Carson - the company's founder - says he got the idea for his business while working in the traditional waste hauling industry. He says he was amazed at the amount of waste generated by American companies.
Damon Carson said, "We take byproducts and waste of industry that are obsolete, no good to that industry, and then try to find a second, unrelated industry where those byproducts and waste can be reused and be part of that operation."
Carson says he now runs a million dollar a year business reselling items like these old conveyor belts from mines, now converted into warehouse flooring. And he advertises these enormous tires, used in copper mines, as feeding troughs for animals.
Damon Carson said, "In recycling you have to somehow transform the product. You have to grind it, you have to melt it, you have to chip it, something. We are focused on the creative reuse side. So we're looking for byproducts and waste that have value as is."
Carson started his business by selling used advertising billboards - a common sight alongside America's highways.
The vinyl billboards - hundreds of which are folded up and stored here, in Carson's warehouse - are waterproof and have a UV protective coating, making them perfect for companies looking for protection for their equipment.
Kevin Callahan, owner of Green Sheen Paint Recycling, said, "We have a lot of outside storage that we need to keep dry and clean. I thought those things would be a real good, economical way of reusing something instead of buying something brand-new."
CCTV's Steve Mort said, "With many companies still struggling in the down US economy and looking for bargains, Damon Carson says his business is booming. He hopes by saving just a small portion of America's industrial garbage from the landfill, he can help tidy up the environment while making a tidy profit at the same time."
Editor:Liu Fang |Source: CNTV.CN