Watch Video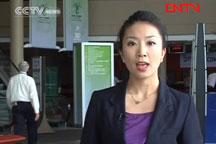 Play Video
The European Union appears to be on track for its overall climate finance pledge. But negotiators in Durban are trying to get the money up and running, with greater transparency. They acknowledge the progress made so far, and are looking ahead at 2020.
Despite its own debt problem and budgetary cuts, the EU has managed to mobilize 2.34 billion euros this year, to help poor nations deal with climate change. Together with the money from last year, the EU has met 65 percent of its pledge from 2010-2012.
Tim Gore is the policy lead for Oxfam. He's concerned about the way the money is being given to developing countries.
His concern is shared by everyone. So we directed the question to EU's chief negotiator, who was making the progress report.
Giving money is one thing, and using it to the fullest is quite another.
Developing countries want to maximize transparency. They say money should not be misued, because of corruption.
CCTV's Wang Mangmang said, "Financing is likely to be one of the few steps to push the international community forward in Durban. But given the economic situation in Europe and the complexity of funding, it is going to be a difficult commitment. If governments can agree on the when and the how of this money issue, it would mark significant progress for negotiations."
Editor:Liu Fang |Source: CNTV.CN