Watch Video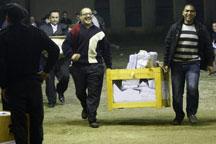 Play Video
Vote counting is underway in Egypt after the country's first landmark election since the fall of Hosni Mubarak. The Muslim Brotherhood is leading in the polls so far, but official results are yet to be announced.
Ballot boxes were sealed and taken away to counting centers on Tuesday evening, after the second day of voting in Egypt's landmark parliamentary elections.
In Alexandria, dozens escorted trucks carrying ballot boxes to ensure the safety of voting slips.
Mohammad Fathi, Muslim Brotherhood supporter, said, "We will follow and protect the ballot boxes until it reaches the counting station safely, and we will follow the results of the elections moment by moment."
According to a party source, the Muslim Brotherhood has secured about 40 percent of the votes so far, putting it well ahead of other groups.
The two-day vote was mostly peaceful, though the calm was shattered on Tuesday night. Nearly 80 people were wounded in violence during a protest by activists demanding an end to army rule in Tahrir Square.
Despite this, observers say the election seems to have largely escaped irregularities and ballot fraud. And Egyptians are pleased with the way the elections were held.
Mahamed Abdul Fatah, voter in Cairo, said, "The election was held fairly and it was good, without any trouble. My only concern is delaying the voting time in some polls, but overall it was good, we did not have such an election before."
Official results from Monday and Tuesday's votes are expected soon. The election for Egypt's lower house is taking place in three provincial phases, finishing in early January.
Editor:Zhang Dan |Source: CNTV.CN