Watch Video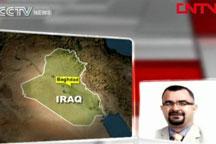 Play Video
US Vice President Joe Biden is now in Iraq, visiting US troops as their withdrawal from the country nears. He is due to address US forces in a ceremony marking the end of the pullout. He will also meet with Iraqi leaders. With more on that, let's speak to our correspondent Baqi Naqed Naji in Baghdad.
Q1: Which Iraqi politicians has Biden met with so far and what's been the focus of the meetings?
Q2: What is the procedure for the withdrawal of the US troops and how likely is it they will leave the country by December 31st?
Editor:Zhang Dan |Source: CNTV.CN