Watch Video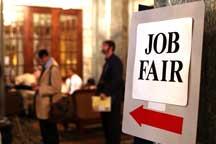 Play Video
The US unemployment rate dropped to a two and a half year low, and payroll growth matched forecasts for November, in another sign the US economic recovery is gaining traction. Americans looking for a job have some positive statistics to consider.
The U.S. unemployment rate tumbled to 8.6 percent in November, a 2-1/2 year low, according to the Labor Department.
Meantime, 120,000 new jobs were created during that period as the private sector more than made up for disappearing government jobs.
Underscoring a pick-up in the labor market: payroll gains for September and October were revised to show even stronger job growth than first announced.
Harvard University Professor Jeffrey Frankel called it an encouraging report, but says progress is still slow.
Jeffrey Frankel, Harvard University Professor, said, "Part of the report from the Bureau of Labor Statistics says that the average rate of job creation over the last 12 months has just been over 130,000 jobs per month, now that's still completely inadequate, barely enough -it is enough to bring unemployment rate, it's enough to keep up with population growth and just a little bit more."
And that puts even more focus on White House efforts to aid the economy and encourage hiring by extending a payroll tax holiday.
Alan Kreuger is the newly minted chairman of the White House Council of Economic Advisers.
Alan Kreuger, Chairman of the White House Council of Economic Advisers, said, "And I can tell you as an economist the type of support the economy needs right now with potential threats coming from Europe and elsewhere is to increase after-tax income for consumers, to extend unemployment benefits - we still have 13 million unemployed workers in the U.S., extended unemployment benefits are slated to expire at the beginning of next year."
Economists say although the rebound in the jobs market is a modest one, the gains are widespread throughout the private sector; another sign the economic recovery is gaining traction.
Editor:Zhang Pengfei |Source: CNTV.CN