Watch Video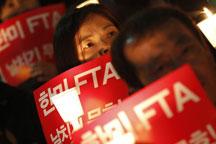 Play Video
It's taken four years of political wrangling to actually implement the US-South Korea Free Trade Agreement. The deal was initially signed in 2007 -- but some details were never ironed out -- until now. And despite this latest breakthrough, the trade deal remains a divisive issue for many South Koreans.
It's the US's most important trade deal since the signing of the North American Free Trade Agreement in 1993.

South Korean President Lee Myung-bak (C) signs a package of bills to implement free
trade agreement between South Korea and the U.S. during a cabinet meeting at the
presidential Blue House in Seoul November 29, 2011.
For South Korea, it's the most significant bilateral trade pact in the country's history. Marathon negotiations began in as early as mid 2006. And the deal was officially signed off a year later.
But substantial differences remained unsolved, over specific details of the deal. After several rounds of talks over the last four years, the two nations have finally ironed out their differences - which centered on the auto and agricultural industries.
The US trade commission says tariff cuts will increase exports to South Korea by 10 billion US dollars each year. The deal was officially ratified by the US congress in October.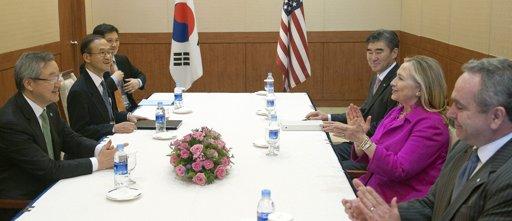 U.S. Secretary of State Hillary Rodham Clinton, 2nd right, applauds South Korean
Foreign Minister Kim Sung-hwan, left, and the passage of the U.S.-Korea Free Trade
Agreement during a meeting on the sidelines of the Fourth High Level Forum on Aid
Effectiveness in Busan, South Korea Wednesday, Nov. 30, 2011. (AP Photo/Saul Loeb,
Pool)
But a huge impact is expected on some local industries in South Korea. Some experts predict that South Korea's demand for US farming products will increase by one billion US dollars - to the detriment of local farmers.
The country's main opposition party has been trying to block what they see as a lopsided agreement -- insisting it severely compromises South Korean national interests.
But in late November, South Korea's ruling Grand National Party convened a plenary session to push the deal through. Anger erupted in parliament, and there were even physical scuffles that had to be broken up with tear gas.
But the ruling party got its way -- and after four years of careful political maneuvering -- the trade agreement finally got legislative approval, and can now be enacted by both sides.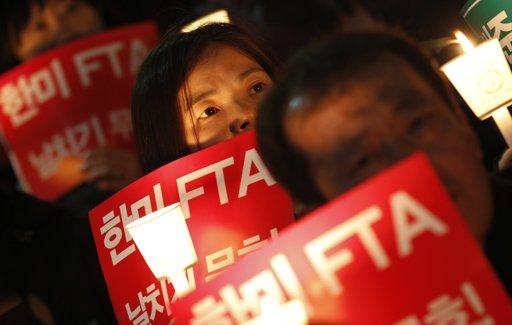 Protesters attend a rally demanding the invalidation of South Korea's free trade
agreement (FTA) with U.S. and the resignation of South Korean President Lee Myung-Bak,
in central Seoul, November 28, 2011.
Editor:Zhang Dan |Source: CNTV.CN