Watch Video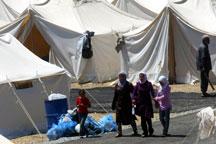 Play Video
This week Syria has been hit with sanctions from all sides: the Arab League, the EU and Turkey. As the fighting spirals into what many are now calling a civil war, France has suggested a humanitarian corridor to Turkey that would offer civilians a way out. But CCTV correspondent Stephanie Freid explains why it probably won't be implemented.
A humanitarian corridor is what it sounds like: An escape route for people seeking to flee fighting. Those caught in the middle are frightened and many welcome the idea of getting out.
But thousands tried those months ago, escaping into neighbouring Turkey. Their escape was dangerous and risky.
This man's village is in these hills a mere kilometre from where he's standing. To safeguard family members still living inside, he can't reveal his identity.
Syrian refugee in Turkey said, "People came to the border with buses and soldiers were shooting at the buses. I saw one women and the driver get killed. We buried them. The children escaped."
An estimated ten thousand Syrians are living in refugee camps in Turkey. Movement is limited and there's no timeline for a return to homes and previous lives.
A humanitarian corridor could only operate with Syrian approval which is unlikely. And it would add more refugees to the mix - something officials say the Turkish system can handle - within limits.
Hikmet Cincin, president of Antakya Chamber of Commerce, said, "The costs of 7,000 people to the economy is negligible for a country like Turkey, but in the future if the numbers hit hundreds of thousands, yes - it can be a big expense."
Border towns are already taxed by loss of Syrian trade revenue. Adding more refugees to that mix would add to the strain.
Editor:Zhang Dan |Source: CNTV.CN