Watch Video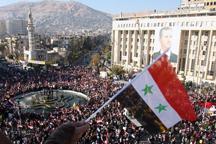 Play Video
Syrian Foreign Ministry spokesman Jihad Mak-desi says his country has responded "positively" to a proposed Arab League plan aimed at ending eight months of violence, and expects the agreement to be signed soon. He was speaking after the latest deadline passed to agree to a League initiative aimed at halting President Bashar al-Assad's crackdown on protests. Mak-desi says Syria also wants statements by the Arab League secretary-general and Qatar's prime minister opposing foreign intervention in Syria, to be formally included in the agreement.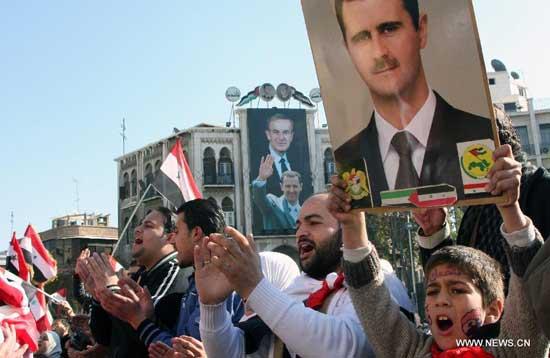 Syrian people gather at Sabe Bahrat Square in downtown Damascus, Syria, Dec. 2, 2011.
Syrians participated in a demonstration to denounce recent economic sanctions impose
by the Arab League and Turkey on Syria and to show support to their president in the
face of mounting pressures. Syria witnessed pro-government rallies in many cities on
Friday. (Xinhua/Bassim)
Mak-desi said: "We asked the general secretariat and the secretary-general of the Arab League about the possibility of signing the agreement in Damascus in accordance with what was agreed upon in the Doha paper on October 30, 2011. We also asked them to consider all the decisions that were taken in the absence of Syria, such as those concerning Arab sanctions against Syria and the suspension of Syria's membership in the Arab League, to consider them null and void when we sign this agreement. This demand is in line with Arab declarations and is a reasonable demand."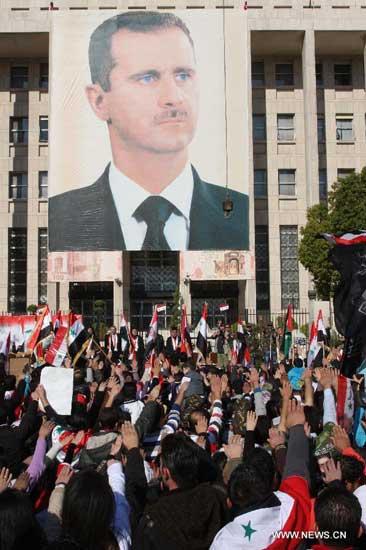 Syrian people gather at Sabe Bahrat Square in downtown Damascus,
Syria, Dec. 2, 2011. Syrians participated in a demonstration
to denounce recent economic sanctions impose by the Arab League
and Turkey on Syria and to show support to their president
in the face of mounting pressures. Syria witnessed pro-government
rallies in many cities on Friday.(Xinhua/Bassim)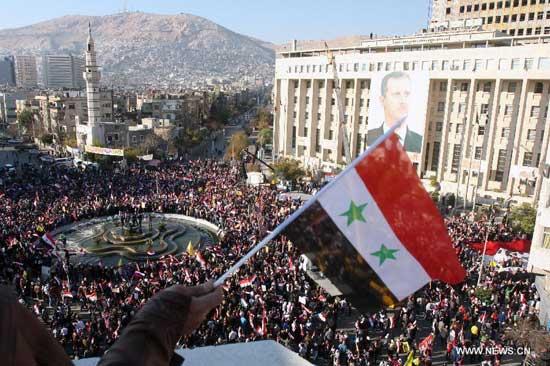 Syrian people gather at Sabe Bahrat Square in downtown Damascus, Syria, Dec. 2, 2011.
Syrians participated in a demonstration to denounce recent economic sanctions impose
by the Arab League and Turkey on Syria and to show support to their president in the
face of mounting pressures. Syria witnessed pro-government rallies in many cities on
Friday.(Xinhua/Bassim)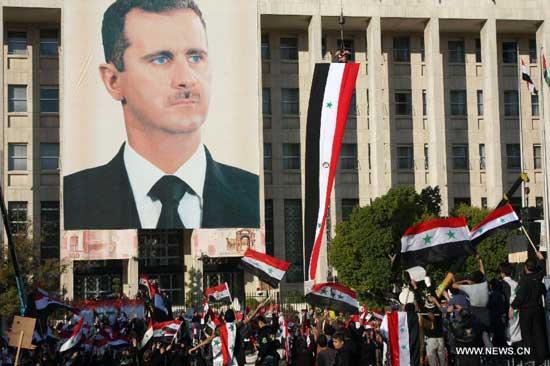 Tens of thousands of Syrians demonstrate at Sabe Bahrat square in downtown Damascus,
Syria, on Dec.2, 2011, to denounce recent economic sanctions imposed by the Arab
League and Turkey on Syria and to show support for their president. (Xinhua/Bassim)
Editor:Zhang Rui |Source: CNTV.CN