Watch Video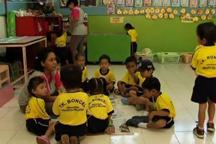 Play Video
Despite stellar economic growth during the last three years, the number of poor people in Indonesia has grown by 2.7 million, according to the Asian Development Bank. Indonesia even trails Laos and Cambodia in its effort of poverty eradication. The desperate situation has forced many parents to send their children to orphanages, since they can't afford to take care of them.
4 year-old Jose misses his home.
In his four years, he has been separated from his parents two times. First when he was just one year old, and now for the past four months he hasn't heard anything from his parents
Economic orphans in Indonesia.
Jose can't understand why he has to stay here at the orphanage while his parents can go home
Orphan Jose said: "I don't know why I can't just stay home with my mother"
Sadly, Jose is not the only one. Thousands of Indonesian children have been forced to stay in orphanages like this one because their parents can no longer afford to feed them.
According to the most recent survey by the Indonesian government, 80% of children in child care institutions are like Jose. Orphaned by their parents' economic situation.
Orphanage caretaker Sister Vinsensiana Ope said: "almost everyday there are parents from poor families coming here to put their kids, and every year the numbers goes up and up"
Jose's story shows the other face of Indonesia's booming economy. While the country has been praised for being one of the strongest economy in G20, millions are still making less than 2 dollars a day. And thousands are pushed to leave their kids behind.
Luhur Fajar Martha with Prakarsa Institute said: "Indonesia's poor population is the only one that is growing, this means that the Indonesian government is worse than the 2 weakest economies in the region, Laos and Cambodia. In the last 3 years, 2,7 million people became poor in Indonesia"
According to their research, Indonesia's 40 wealthiest families possesses the same income to around 60 million of regular Indonesians, highlighting wealth distribution as a major problem
There are around 20 million Indonesians living in wealth and around the same number living in extreme poverty.
Reporter: "For those on the bottom of the scale, the hope is simple: For economic pressure to ease so that they will never have to face the option of leaving their kids behind. "
Economic orphans in Indonesia.
Economic orphans in Indonesia.
Related stories
Editor:Zhang Rui |Source: CNTV.CN