Watch Video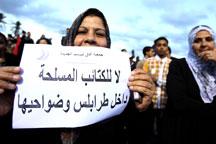 Play Video
Libya's interim government has set a deadline for local militias to lay down their arms by December 20th. The move comes following a rally in Tripoli calling for a faster disarmament process. Many Libyans want the militiamen to go home and leave the job of keeping order to the police and the new army the government plans to create.
Demanding a weapons-free Tripoli - In a show of support for the new government, around 2,000 protesters called for the militias to leave the streets of their city. They are trying to end the months of lawlessness that have followed this year's civil war.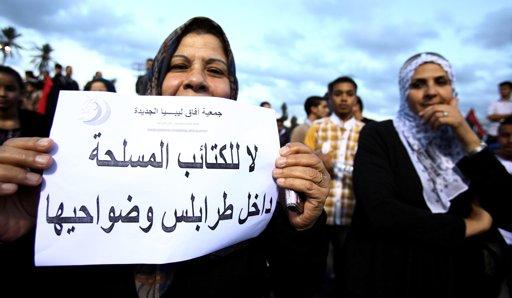 A Libyan woman holds a placard that reads in Arabic "No to armed militias inside and
around Tripoli" during a protest in Tripoli's landmark Martyrs Square against former
rebels -- who toppled Moamer Kadhafi but are still camping out in the capital and
still have their weapons. (AFP Photo/Mahmud Turkia)
Basma, anti-militia protester, said, "We need policemen to go back to their jobs, and we need the capital only for Tripoli's people, and we are all free and united. All militias must go back to their cities."
Rajab Milad, policeman, said, "The local councils and the NTC gave a warning two weeks ago to hand over weapons and all heavy machine guns and they must withdraw from Tripoli."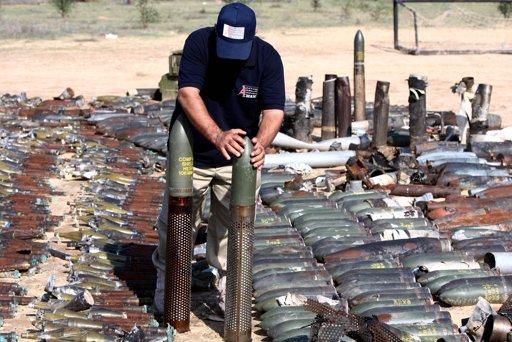 A member of Libya's National Transitional Council (NTC) shows journalists remnants of
arms and unexploded weaponry being collected as part of an NTC campaign in Tajura,
November 2011. Libya's government on Tuesday gave its firm support to a two-week deadline for militias to quit Tripoli, backing up a threat from the capital's council
to lock down the city if they fail to do so. (AFP Photo/Mahmud Turkia)
The various militias came together to oust Muammar Gaddafi and have filled the power vacuum left by the collapse of his 42-year rule three months ago.
Some are headed by strongmen jostling for positions before elections planned for the middle of next year.
But the interim government wants them to leave. Prime Minister Abdurrahim El-Keib and the city council have given militias until December 20th to go.
Ahmed, anti-militia protester, said, "This protest has been organized by all local Tripoli councils, and Tripoli must be secured without weapons. We hope that all heavy machine guns will be moved outside Tripoli. We order, from all citizens, for semi-official security brigades, to hand over weapons and secure Tripoli without violence."
The city council announced the protest a day in advance. In the same statement, it issued the ultimatum to the militias. But the turnout was modest compared to previous demonstrations.
Related stories