Watch Video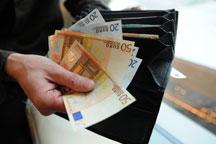 Play Video
EU leaders are gathering in Brussels for a two-day summit aimed at securing a comprehensive solution to the sovereign debt crisis that would include treaty change.
A last minute proposal to seek more assistance from the IMF and boost the EU's own rescue funding will also be discussed. CCTV correspondent, Jack Barton, in Brussels says the latest moves being spearheaded by France and Germany are being welcomed by most economists and the financial markets, but doubts remain over whether this will really be the big fix that Europe so desperately needs.
It's become a familiar scene.
Threatened with a bond market meltdown, European leaders gather in Brussels to deliver the big bazooka solution to the Euro crisis, but always seem to end with very little, just enough to calm the markets in the short term.
But this time they're promising it will all be different... that a comprehensive solution is at hand.
Germany and France want treaty change to introduce deficit limits and budget rules for countries along with penalties for those who fail to meet targets.
But policy experts say calling the proposals a move towards fiscal union is premature.
Karel Lannoo, CEO of Center for European Policy Studies, said, "Probably it's a way to reassure the markets. But is the fiscal union I don't think so because we will not go to Eurobonds, we will not go to a joint assurance of our budgets, which I would say a fiscal union would be".
But getting everyone to go along with the Franco German proposals will still be a challenge.
Carsten Brzeski, SNR Economist of ING, said,"The first thing of course is to convince other European countries that they should join this pact and we've seen over the past few years that not all excellent French German proposals survive European summits. That's the first thing the other thing that this won't be enough. It's nice to shape the future of the monetary union but we need more and we need the ECB on board".
The ECB is of course the European Central Bank.
"France wants it to open the floodgates when it comes to buying up bonds to keep down the borrowing costs of troubled countries. France also wants to have final say over its own budget rather than the European Commission. On both issues Germany wants the exact opposite". CCTV correspondent, Jack Barton said.
So even between the two largest Eurozone economies pushing for change there is still plenty of friction.
"They know if they mess up, really this might be the beginning of the end of the Eurozone so therefore they will try to get their act together and try to get the best out of it, of course there are still these problems". Carsten Brzeski said.
EU officials say there is also a last minute bid to win more support from the IMF and to create a second bailout fund worth 500 billion Euros that could start operating mid next year. That would be welcome news in many quarters, especially the markets.
But it all comes as Standard & Poor's threatens to downgrade the credit rating of the existing bailout fund, along with the ratings of 15 EU countries, which would drive borrowing costs up even further.
The consensus seems to be that the summit will produce enough to give the Eurozone a not very Merry though drama-free Christmas, but a happy new year is going to depend on further resolutions.
Related stories
Editor:Zheng Limin |Source: CNTV.CN