Watch Video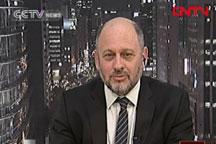 Play Video
For more insight into the Durban climate change talks, let's go live to Professor Timothy Fridtjof Flannery, Chairman of the Copenhagen Climate Council in Seoul, South Korea.
Q1: With the conference entering its final days, some experienced delegates say talks appear to lack urgency -- This, despite the European Union saying it's ready to begin the second commitment period of the Kyoto Protocol. What have this year's climate talks achieved?
Q2: So far, it doesn't look as if the divide can be bridged. The bloc of Least Developed Countries, the Alliance of Small Island States and the EU want a new legally binding agreement for all nations. But some big emitters, including Brazil, India and the US, are holding out for a longer timescale. How do you see the future of climate cooperation between developing countries and developed ones?
Related stories
Editor:Zheng Limin |Source: CNTV.CN