Watch Video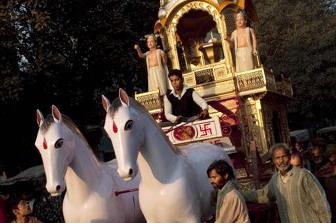 Play Video
In 1911, the British empire declared Delhi as India's capital. With a current population of over 16 million, it's a city that has witnessed a major transformation in the last 100 years.
CCTV's India correspondent brings you a report on what Delhi means to its young and growing population and how it's celebrating its centennial.
These pictures are a hundred years old when the Britishers made Delhi India's capital, taking the crown away from Kolkata. A grand congregation of royalty and British soldiers assembled at the Delhi Durbar as King George V proclaimed Delhi as the new Capital of Imperial India.
100 years later, Delhi has transformed. It's a modern city that has its heritage and culture still at its heart.
CCTV's India correspondent Shweta Bajaj said, "As Delhi completes 100 years as India's capital, there is festive spirit all around the city. With people of different nationalities, cultures and religions living in this one big city, obviously everyone has a different connotation of India's capital"
For some Delhi is home, for some it's a new found home but for all, Delhi is probably the only city in India that embraces all and calls no one an outsider.
Resident in New Delhi said, "I had to stay abroad for a year and a half when I was studying. Although I was physically there, my thoughts were always back home. Delhi is like no other place in the world. Its home for me, its, everything for me."
Another resident in New Delhi said, "I just love it the way it is. I like everything about it. Plus there are lovely people here so I love it, absolutely."
A resident said, I travel. I go to a lot of places. I don't see anything as beautiful or as well maintained or as well built or as well planned as this place. Plus you get to see a lot of old historical things. That attracts me a lot.
A resident said,"It's a really vibrant, it can take a little bit of getting used to because it is pretty loud and other night when I was trying to go to bed, I was comparing it to California but it's a very active and fun city overall."
Lutyen's Delhi – as its called after its architect – Sir Edwin Lutyen is today transformed due to many changes but it retains it's old world charm.
To mark hundred years of Delhi as its capital, there are festivals and events planned throughout the month, going into January 2012.
One of them was unique – the south asian bands festival – where a Pakistani band paid tribute to Delhi for being the city it is.
Pakistani musicians Zeb and Haniya had a special performance on the ocassion of Delhi's 100 years.
Pakistani Musician Haniya Aslam said, "I love Delhi. I have been coming here. This is my fifth time and it just feels a lot like home. A bit odd because sometimes I feel like I am in Lahore and then suddenly something will happen and I will have to snap out of it."
Pakistani singer Zeb Bangash said, "This is a beautiful city and it has some amazing talent, amazing people. I just hope that it keeps growing and the love for music and the arts and all the warmth that you feel in this city is amazing and I hope that it remains so."
From 1911 to 2011, Delhi has come a long way. The wheel of progress has turned Delhi into a world-class city. But the 100 years later, the trasformation continues.
Editor:Zhang Jingya |Source: CNTV.CN