Watch Video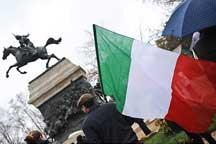 Play Video
Italy's last bond auction of the year saw the country having to pay higher borrowing rates to get investors to lend it the money it needs to roll-over its debt.
Wednesday's auction showed that the debt-riddled country paid an average yield of 6.47 percent for investors to lend it three billion euros over five years.
Italy is feeling the squeeze once again.
It paid a record 6.47 percent to sell 3 billion euros of its five-year debt in a bond auction - the first since the EU agreed at a summit to move towards greater fiscal integration.
Rome has reduced the size of its bond auctions as it comes under market pressure - but it's going to have to sell a lot more debt in the coming months.
It needs to find around 440 billion euros of funding next year.
The EU summit has failed to convince markets that Europe can solve the debt crisis.
And there's renewed anger about the government's austerity measures as Prime Minister Mario Monti discovered while addressing parliament.
The leader of Italy's largest union warns that people are becoming increasingly frustrated.
Susanna Camusso, general secretary of Italian Trade Union CGIL, said, "Individual anger is growing. All right, he's going to save the country but I'm paying the bills. Pensions and taxes are what people live off. Their anger needs to be interpreted and well-read, because it stems from people's real conditions and adds to growing tension in the work place. We even see risk of a social explosion."
Speaking to the German Parliament, Chancellor Angela Merkel said that Europe is going through one of its most difficult crises and again rejected calls for the European Central Bank to intervene more decisively.
Angela Merkel said, "We agree on taking a common direction towards a fiscal union, something which would have been unimaginable just a few months ago. The opportunities of this crisis, and this is my firm belief, are much larger than its risks. Our political generation has the historical responsibility to make use of these opportunities."
EU leaders hope to have the new treaty ready by March. But analysts warn that Italy and Spain have major refinancing deadlines before then.
Related stories
Editor:Liu Fang |Source: CNTV.CN