Watch Video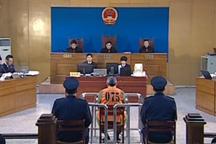 Play Video
The fight against corruption in China has no limit in its scope, not even when it comes to sports. Now, the long-awaited trials for former Chinese soccer officials and referees in northeastern China's Liaoning province have started at the Intermediate People's Court of Tieling.
Zhang Jianqiang, a former director of the Chinese Football Association's referee committee, is the first defendant to appear in court on charges of match-fixing and bribery. Several top referees will also be up in court, including Lu Jun. Once dubbed by affectionate fans as the "golden whistle," Lu officiated at the 2002 World Cup games. He is set to appear at the intermediate People's Court of Dandong next week.
Meanwhile, the trial dates for two other high profile soccer figures, Nan Yong and Xie Yalong, both former vice presidents of the football association, are yet to be announced.
A former director of the Chinese Football Association's referee committee, and a beloved figure in women's soccer... But all that still wasn't enough for Zhang Jianqiang.
Prosecutor of Intermediate People's Court of Tieling said: "Investigations into the matter have revealed that Zhang Jianqiang has abused his authority through match-fixing and taken bribes with a total value of 2.38 million yuan since 1997."
This is the first in a series of long-awaited trials for corruption in Chinese soccer. More than 20 people, most of whom are former Chinese Football Association and club officials, are facing trial this week.
Meanwhile, several top referees including Lu Jun, a former Asian Football Confederation best referee of the year, and Zhang Jianqiang's partner in crime, is joining him in the dock.
Zhang Jianqiang, former director of Chinese Football Association said: "The club expressed that they wanted a favor in the game through an acquaintance. Then I called Lu Jun and asked if he wanted to help out. "
Lu Jun said: "He hinted that if the club won in the match, we would get a monetary reward."
A lot was at stake in this championship game. Fans were excited to see their favourite teams battling it out, but no one knew the game was already set before it even started.
Zhang Jianqiang said: "That was the reality. There were no morals, no regulations, no supervision."
China's professional leagues have been plagued with allegations of gambling and match-fixing for years.
And soccer fans nationwide are hoping the trials will be the first step to resurrection of Chinese soccer.
Related stories
Editor:Zhang Rui |Source: CNTV.CN