Watch Video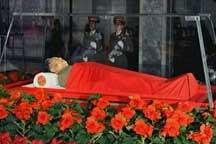 Play Video
The DPRK's state television, KCNA, has released the first images of the body of Kim Jong Il, lying in state at the Kumusan Memorial Palace in Pyongyang.
The still images show the late leader's body lying in a glass sarcophagus, in a similar fashion to his late father and founder of the DPRK Kim Il Sung, who died in 1994 and whose embalmed body is also housed in the palace. Kim Jong Il's successor, and third son, Kim Jong Un was in attendance.
Visibly struck, Kim Jong Un was shown bowing and paying respect to his late father.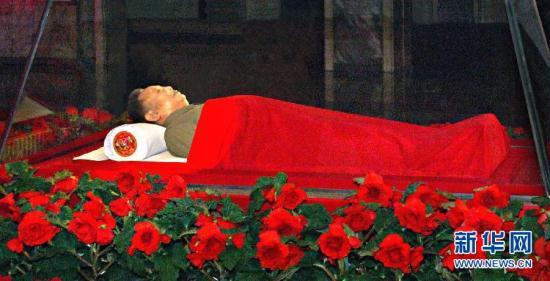 In this photo released by the Democratic People's Republic of Korea (DPRK)'s official KCNA news agency, the body of DPRK's top leader Kim Jong Il lies in the bier at the Kumsusan Memorial in Pyongyang, DPRK, Dec. 20, 2011. Kim Jong Un, vice-chairman of the Central Military Commission of the Workers' Party of Korea (WPK), paid his respects Tuesday at the bier of his father and DPRK's top leader Kim Jong Il, official KCNA news agency reported. (Xinhua/KCNA)
The DPRK's senior political and military leaders were also in attendance. KCNA referenced Kim Jong Il's military and political achievements over the past decades.
The DPRK's state media has urged the people to rally behind the successor, Kim Jong Un to lead the country.

In this combination picture released by the Democratic People's Republic of Korea (DPRK)'s official KCNA news agency, the body of DPRK's top leader Kim Jong Il lies in the bier at the Kumsusan Memorial Palace as his son, Kim Jong Un, vice-chairman of the Central Military Commission of the Workers' Party of Korea (WPK), and other senior party, government and army officials pay their respects in Pyongyang, DPRK, Dec. 20, 2011. (Xinhua/KCNA)
Related stories
Editor:Liu Fang |Source: CNTV.CN